Halifax Pop Explosion (HPX) announces a free Stars show in Grand Parade Square on Saturday, October 22. The concert starts at 3pm and features performances from Plants and Animals, Carmen Townsend, and Papermaps.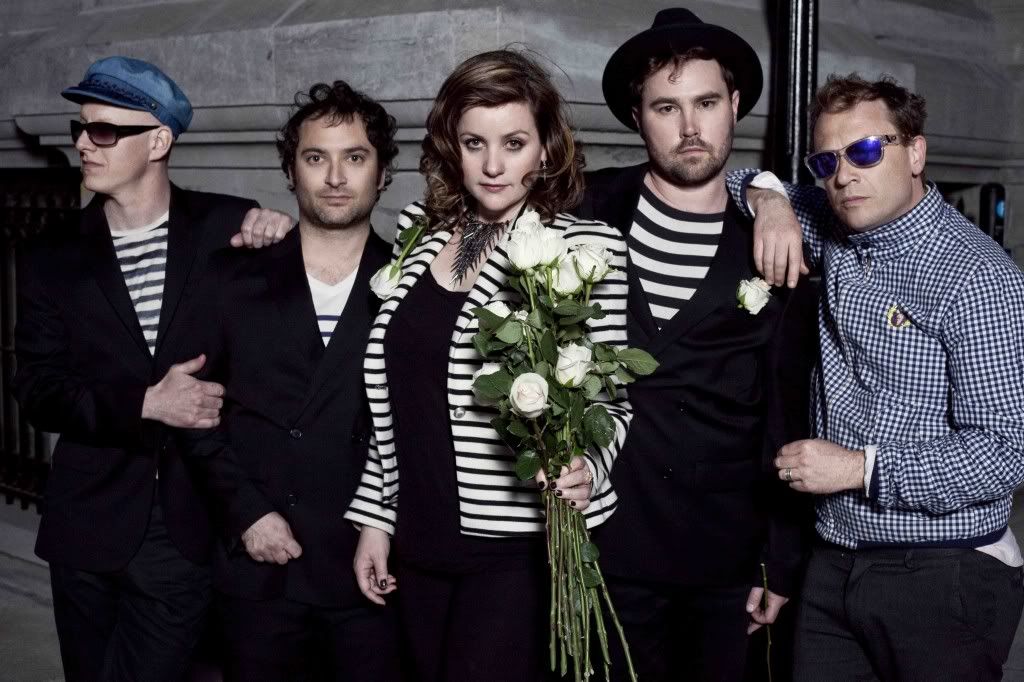 The show is the latest addition to HPX's already impressive 2011 line-up (
http://halifaxpopexplosion.com/main-schedule/
) that showcases renowned artists such as Thee Oh Sees, Fucked Up, JEFF the Brotherhood, Dan Mangan, The Pains of Being Pure at Heart, Chad VanGaalen, and The Thermals performing at 20 venues throughout Halifax, NS from October 18-22.
"We are excited to be able to present a large free concert as part of this year's Halifax Pop Explosion," says Executive Director, Jonny Stevens. "We look forward to welcoming thousands of fans of all ages to this event on Grand Parade Square in the heart of downtown Halifax."
Canadian indie-pop/rock revolutionaries, Stars released their fifth studio album The Five Ghosts on June 22 via their own new label imprint, Soft Revolution Records. The record has already outperformed every other album they have previously released in Canada and America. The band embarked on a unique seven city, Canadian pre release tour in May where they played the new album in it's entirety from start to finish coupled with an encore set of tracks selected by their fans. Stars played Osheaga and Lollapalooza last year. Stars hit Europe to crossed Canada and America on a theatre venue tour. Torquil from the band is currently working his side project, Memphis (Arts & Crafts) and Amy and Evan just welcomed their first child to the world in March. Stars are working their newest single, "Changes."
Plants and Animals latest offering, La La Land, showcases them at their smoothest and most cohesive. Inspired by a rediscovery of electric guitars, amplification and fuzz pedals, the album was recorded at the band's home-base studio in Montreal, The Treatment Room, and at Studio La Frette outside Paris, a broke down old mansion filled with vintage gear and a killer board in the cellar instead of wine.
You can call Carmen Townsend's music many things, but reserved isn't one of them. Her sound is vast, with stretching riffs that give birth to a fierce sonic motion. Townsend's debut album Waitin' and Seein' truly exposes her depth as a songwriter. Her soft side is exposed through an array of acoustic-leaning tracks, from the rumble of "Sweet Little Bird" to the transcendental charm of "All That Was Left."
Papermaps (formerly EX~PO) blends elements of indie rock, art rock, experimental, shoegaze and electronica while maintaining strong pop sensibilities. Based on their energetic live show, the band is often compared to acts as varied as the Shins, Big Star, Spoon, Radiohead, Roxy Music and MGMT.
HPX wristbands, passes and #POPular Conference passes are available now through ticketpro.ca and their outlets (ticket link: http://ww3.ticketpro.ca/groups.php?id=105) with a limited quantity offered at discount. Wristbands and passes are limited, so avoid disappointment and buy early.
For full details on wristbands and passes, visit:
www.halifaxpopexplosion.com