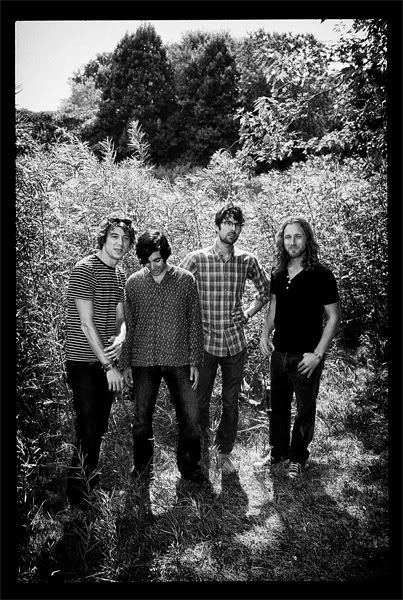 Montreal psych pop purveyors also release video of their new single shot from fan submitted footage of the band's live performance at this year's Osheaga Festival.
As a preview of their upcoming sophomore album (to be released spring 2012), Elephant Stone will be releasing a two-song digital single on September 20th. The lead-off track is the 12-string guitar symphony of Love the Sinner, Hate the Sin b/w the 8.5 minute psychedelic opus The Sea of Your Mind. A free download of Love the Sinner, Hate the Sin is available at
www.elephantstonemusic.com
or stream it below:
Elephant Stone -- Love the Sinner Hate the Sin by elephantstoners
Elephant Stone will also be releasing official video for Love the Sinner, Hate the Sin. The video was filmed by fans at Elephant Stone's performance at this year's Osheaga Festival in Montreal. Filmmaker and musician Andre Bendahan (Final Flash), compiled and edited all the fan-filmed footage submitted to Elephant Stone's web site.
Elephant Stone is the brainchild of bassist/sitarist Rishi Dhir, a founding member of Montreal pop/psyche veterans the High Dials, and in-demand sitar player for basically every outlaw psyche band out there (Black Angels, The Earlies, Hopewell, Brian Jonestown Massacre, The Soundtrack of Our Lives).
In 2009, Elephant Stone released their debut album, The Seven Seas. Perfectly melding Rishi's obsession with the perfect pop song and the trippiest raga, The Seven Seas was warmly embraced by the global indie-scene and long listed for the coveted 2009 Polaris Music Prize in Canada. 2010 saw the release of The Glass Box EP, a 5-song suite of inspired power-pop/psyche classics, a supporting slot on the Brian Jonestown Massacre's North American tour, and an inaugural tour of Europe with sold-out dates in London and Berlin.
Elephant Stone are currently planning their biggest tour yet that will take them from Montreal to California, Iceland and the UK.
Tour Dates
Oct 3: Montreal, Casa Del Popolo w/ Uncle Bad Touch
Oct 11: San Francisco, The Make-Out Room
Oct 12: Los Angeles, The Echo w/ Sky Parade
Oct 14: Reykjavik, Hresso (Montreal daytime showcase)
Oct 14: Reykjavik, Reykjavik Downtown Hostel
Oct 15: Reykjavik, Hresso (Canadian Blast daytime showcase)
Oct 15: Reykjavik, Tjarnarbio (Official Iceland Airwaves)
Oct 18: London, The Lexington (w/ the Koolaid Electric Company, the See See, and the Hall of Mirrors).
Oct 19: Brighton, Sticky Mike's Frog Bar
Oct 20: Cardiff, Clwb Ifor Bach w/ Herman Dune
Oct 21: Carlisle, The Brickyard w/ Kontiki Suite
Oct 22: Edinburgh, The Bongo Club / Delta Mainline
Oct 23: Glasgow, 13th Note Cafe w/ The Hidden Masters
Oct 25: Nottingham, Chameleon Arts Cafe w/ The Cult of Dom Keller
Oct 26: Liverpool, The Kazimier w/ By the Sea
Oct 27: York, Stereo
Oct 28: Manchester, Dulcimer
Nov 12: Montreal, Il Motore w/ The Vacant Lots