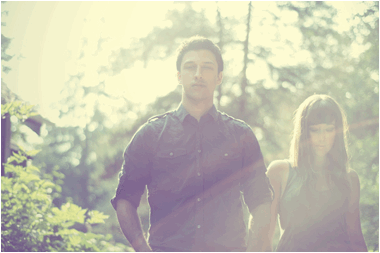 CANADIAN TOUR KICKS OFF IN SEPTEMBER
NEW EP TO BE RELEASED LATER THIS YEAR
Data Romance is ready to hit the road! Since the release of their self-titled EP back in June, the Victoria, BC based duo has had plenty of eyes and ears on them. Now they are ready to take their addictively unique sound on the road. The band will be heading across Canada and the U.S. this fall, kicking off the tour on September 30th in Vancouver, BC (dates listed below). They've also been hard at work in the studio and will be releasing their second EP later this fall.
Ajay Bhattacharyya and Amy Kirkpatrick, the duo who make up Data Romance, have been making waves with their distinct electronic-pop sound. Their eerie video for The Deep made quite the splash in North America and internationally, and created a perfect visual for the beautifully dark first single. The band later traveled across their home country to Toronto, performing stellar shows as part of NXNE and at the Rosemary Films Official MMVA after party in Canada as well as a slew of dates on the ID Tour in America.
Though the group is only comprised of two people, together they create one big sound that is hard to ignore. Kirkpatrick's beautiful whispery voice layers perfectly over Bhattacharyya's driving electronic beats. While the music and vocals seem to come from opposite sides of the spectrum, they undeniably compliment each other and blend to create the band's unique sound. Their live show takes the music to that next level and the pair exquisitely performs their songs with the same energy and brilliance that can be found on the album.
Don't miss your chance to catch Data Romance's amazing live performance and watch for more tour dates across Canada and the U.S. to be announced!
Upcoming Tour Dates:
Sep 30 – Vancouver, BC – Electric Owl
Oct 3 – Calgary, AB – SAIT The Gateway
Oct 4 – Edmonton, AB – Brixx
Oct 5 – Saskatoon, SK – Amigos Cantina
Oct 7 – Winnipeg, MB – The Park Theatre
Oct 10 – Chicago, IL – Schubas Tavern
Oct 12 – Detroit, MI – Magic Stick Lounge
Oct 15 – Toronto, ON – Wrongbar
Oct 16 – Ottawa, ON – Raw Sugar Café
Oct 17 – Montreal, QC – CFC
Oct 20 – New York, NY – LPR (CMJ Showcase)
For more information about Data Romance please visit
www.data-romance.com.