Overview and Video by Ian Kean //

Day 1 Photos-Danielle Albert

//

Day 2 Photos-Stan Béland
Red Tentacle & Morbid Entertainment Present:
THRASHFEST V
The fifth installment of Thrashfest happens on August 19th and 20th. This year featuring an all star lineup;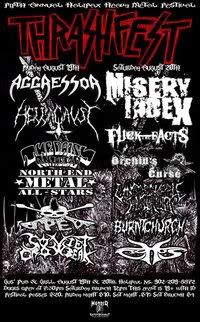 Friday August 19th
SOVIET CROWBEAK
(
http://www.myspace.com/sovietcrowbeak
)
SPEW
(
http://www.myspace.com/spewspew
)
NORTH END METAL ALL-STARS
(
http://www.myspace.com/northendmetalallstars
)
THE DAISY ANTHESIS
(
http://www.myspace.com/thedaisyanthesis
)
HELLACAUST
(
http://www.myspace.com/hellacaust
)
AGGRESSOR
(
http://www.myspace.com/aggressivemusic
)
Saturday August 20th
COTTUS
(
http://www.reverbnation.com/cottus
)
BURNT CHURCH
(
http://www.myspace.com/burntxchurch
)
UNBREAKABLE HATRED
(
http://www.myspace.com/unbreakablehatred
)
ORCHID'S CURSE
(
http://www.facebook.com/orchidscurse
)
FUCK THE FACTS
(
http://www.myspace.com/fuckthefacts
)
MISERY INDEX
(
http://www.myspace.com/miseryindex
)
It's that time of year again in the North End, when metal fans stock up on Olands and flock in great numbers to the one and only Gus' Pub for the most brutal music festival of the summer. I'm talking of course about
THRASHFEST
, a two day metal festival jam packed with the sickest local bands supporting some of the worlds best (in my opinion) metal acts. In its fifth year, Thrashfest has grown stronger and more impressive than ever imagined when it started as someone's house party. This year's Thrashfest stepped it up a notch or two with everything from some spooky red lights and proper sound equipment, to a nice article in the coast, to Jager Girls passing out free stuff. And, of course, the addition of headliners Like
Fuck the Facts
and
Misery Index
(both of which claim Halifax Metal Fans put other Canadian cities to Shame), which did the trick to make this year's Thrashfest one to remember.
The first band of the first night was local instrumental math metal band
Soviet Crowbeak
who played a tight set of thundering riffs and fierce rhythm attack with each song going through a wide range of timings and tempos without every seeming drawn out of overly complicated. I have seen and reviewed this band before and I always enjoy what the bring to the stage and this set was no different than I have have come to expect from them, loud, fast, and aggressive.
Up next was Halifax band
Spew
who manage very nicely to mix in some punk and speedmetal influence into the thrashmetal foundation on which the song structures seem to be build. Their set was full of upbeat, energetic and very tight songs about drinking, smoking and partying. They really got the crowd going with their all or nothing attitude and set, something that is not easy to do so early in what would be a long and brutal night of metal.
The third band of the night was Halifax metal super group "
North End Metal All Stars
" and by the time they took the stage with their over the top power metal guitar harmonies and brutally tight rhythm section, the bar was starting to fill up and the crowd was fully captivated by guys in "N.E.M.A.S". With song titles like "Ballad of Drunkenforce," "Zombie Tsunami," and "Haligonia" North End Metal All Stars stand out as local favorites, and in my mind stand out with their unique major scale song structures that some might call"Good time Metal. "What ever you call it I feel its a fresh departure from the doom and gloom of your average metal group.
The Daisy Anthesis
were the fourth band on this first night of Thrashfest 2011 and I was excited to hear them for the first time. Somehow I've managed to miss this math metal three piece band's set time and time again over the last year. People are always telling me how good they are and by about the second or third song I realized that those people were totally right, "The Daisy Anthesis" are tight , technical , talented and tuff with three F's. I enjoyed their set quite a bit and look forward to seeing them again in the future. I recommend that anyone reading this not familiar with The Daisy Anthesis to check 'em out. IMMEDIATELY !!!
By the time local favorite "
Hellacaust
" hit the stage the bar was packed and the beers were flowing. It was clear that Thrashfest 5 was well on its way to being the best one so far and once Hellacaust blasted into their set the crowd went crazy and bodies went flying from side to side in a pretty impressive pit. Hellacaust played old classics off their first three albums ,some new stuff off their hopefully soon to be released fourth album as well as a fantastic "Mayhem" cover with the help of Ross from North end Metal All stars on vocals. I thought this was the best set of the night, and judging by crowd energy and response I get the felling I'm not the only one who felt that way.
Headlining the first night was Ottawa band Aggressor who rolled into Halifax to drink our beer , steal our women and melt our faces. This three piece may have had a few before they took the stage ,and may not have been the tightest band of the night but their energy and enthusiasm towards the Halifax crowd did a lot to make their set enjoyable despite and drunken mishaps in performance. Earlier in the night their set might not have gone over as well as it did but at this point in the night the crowd had as much fun being drunk and rockin' out to Aggressor as Aggressor did being drunk and rockin' out to Halifax , so cheers to them for convincing us all to have just one more drink before calling it a night.
I woke up the next day hung over brushed my teeth and marched myself straight back to Gus's pub for another Thrashfest tradition "Metal Breakfast". For the low price of four dollars the crew at Gus' cook you up a nice greasy plate of eggs , hash browns and sauages all of which had clever metal sounding names but I don't really remember what they were , Hellish Harshbrowns maybe? So I got my breakfest , got my coffee and by this time a couple members of "Aggressor" and "Hellacaust" were on the stage playing as much as they could remember of some old school covers like Cowboys from Hell, War Pigs and Seek and Destroy. I tried my best to stick around and review the band Ignitor who was supposed to be playing the afternoon spot but was much too hung over and needed a few hours of sun and rest if I was gonna maker it through another night of hardcore metal and liver abuse. So to Ignitor, I owe you a review.
Nine o'clock came pretty quick and by the time I had even made it back to Gus' the opening band of night number two Cottus was already on stage with amps on ten. The last time I reviewed Cottus their set was plagued with mic troubles and technical problem so it was good to see them this time at the top of their game. There is a lot about these guys that appeal to me , not only are the tight and very brutal but they put on a fantastic stage show and go out of their way to stand apart for their peers with audio clips interlaced into the songs and of course the use of a didgeridoo which when used properly hits notes so crushing the make your knees buckle. Gettin' my ass kicked by the sonic onslaught of Cottus was a perfect cure for my hang over.
The second band of this night was
Burnt Church
who are somewhat of a super group themselves featuring members of a few other noteworthy local metals acts I've seen over the last few years. They are at times a bit grindcore , at times a tad punk and at times can be pretty sludgy which seems to be a perfect cross of all the other bands their members are known for. Burnt Church powered through a tight set of quick and assaulting metal riff , grind beats and commanding vocal delivery to an energetic crowd that expected no less from them
Next on the bill for Thrashfest day two was the only band on the entire two day line up that I had never heard of before , Quebec's
Unbreakable Hatred
. What stood out most about this death metal trio was how insanely complex the drum beats were over semi average death / grind guitars and vocals. Not to say that the rest of the band wasn't extremely talented and unbelievably tight, the drummer was just so good it drew most of my attention away from the other members and placed the drums at the front and center of their sound making it hard to focus on anything but. Over all I enjoyed the set but Seriously their drummer was fucking insane !!!
Halifax's own
Orchid's Curse
where up next and although had some technical difficulties at the start of the set they didn't let it bring the energy of the set down one bit. Now I've seen these guys play for years, seen members come and go and band names change (From Slight of Hand to October Crisis to Orchids Curse) but the one thing that has never changed is how they get better every single time I see them and this set of course was no exception. I would say without a doubt they are one of (if not THE) tightest bands on the Halifax metal scene. They always bring a great stage performance and tons of energy to every stage they play and when they hit the breakdown of the single "The Workhorse Walks Alone" its damn near impossible not to sing alone and bang your head.
After a short break to switch over gear and do a sound check the band I had been waiting to see all weekend
Fuck The Facts
took to the stage and came pretty close to blowing the roof of the now over flowing Gus' Pub. I'm not even sure what to say about this band, mere words don't come close to being able to peg down the sound produced by this Ottawa Grindcore band. Even to call them grindcore is a gross under exaggeration of their music, as in my opinion their song structure and sense of groove greatly surpass that of any other Grindcore band that I know of. With amps stacked literally to the ceiling Fuck the Facts set came off like a bomb had landed on stage at Gus' Pub , and as the mosh pit grew and grew, the songs got more and more intense, and the mosh pit grew some more until it was by far the craziest mosh pit Gus' Pub had ever seen . At one point Singer Mel Mongeon jumped off the stage into the pit to show her love for the city she claims "Puts other major Canadian cities to shame". This is the third time I've seen Fuck the Facts in Halifax and it was probably the best yet. I'm glad that we as a metal community have such a good relationship with this Powerful and awe-inspiring band, it leaves me with the sense that they will be back time and time again and I for one am very excited about this.
Headliners of the whole weekend,
Misery Index
all the way from Baltimore, Maryland, were pretty much the icing on the cake so to speak for what had been a long and brutal two and a half days of pure fucking metal. Being as well known as they are, and being as good as they are, its no surprise that the Halifax metal fans managed to scrape together the energy to show these Grindcore/ Thrash legends one crazy ass mosh pit. Right from the first note of the Guitar and first blast of the drums, the mosh pit was in full force and the band was at their best churning out song after song of the most intense and hard hitting metal imaginable. I am again at a loss for words on how to properly describe the live show put on by Misery Index at Thrashfest 5 other than say how floored I was by music , the crowd energy ,the talent of the band and really just the whole experience, it is one that I will probably never forget. I'm sure that other than the few exceptions of alcohol induced memory loss , I don't think many others at Gus' that night will forget either.
So cheers , Beers and Devil Horns to everyone involved in putting on Thrashfest 5 , I couldn't imagine it being any better than it was, can't wait to see what's in store for Thrashfest 6-6-6