Written by Dan Nightingale
Photos & Video by Tiffany Naugler & Dan Nightingale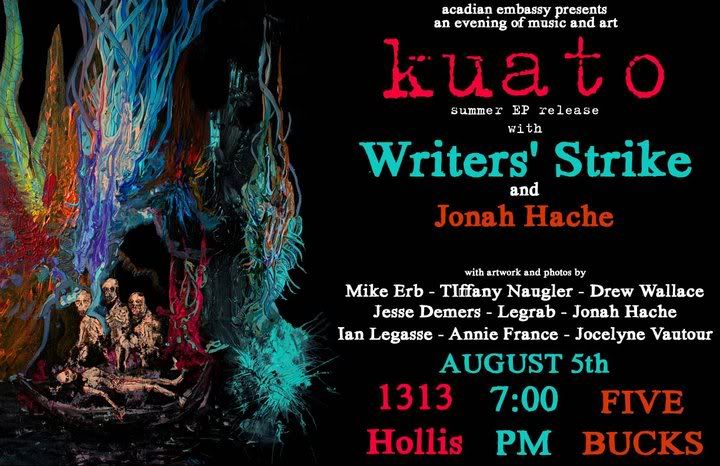 Kuato
(
http://www.kuatoband.com/
)
Writers' Strike
(
http://writersstrike.bandc​amp.com/
)
Jonah Haché
(
http://www.feelsgood.ca/pr​ofile/JonahHache
)
I arrived at 1313 Hollis late on Friday afternoon (but early for shows in Halifax), a venue I was totally unfamiliar with. It turned out to be a tiny art gallery style space, with just enough room at one end for the band to set up their gear and the PA system. There was no stage but there were plently of decorations, local art, and delicious food.
Moncton's own
Jonah Haché
(of Something Delicious fame) was up first. Armed with an acoustic guitar, a keyboard, a pair of microphones, and an array of effects pedals, Haché's set wasn't just singer/songwriter guitar and vocal (my most dreaded genre to write about) but, true to form, a blend of drum loops, guitars, keyboard drones, and crazy vocal effects. After a few guitar numbers he switch to the keyboard and delivered a hand full of punchy, wild, numerous songs more akin to something that Thom Yorke would do, if Thom Yorke was still young and funny and not British.
Formerly the band know as The First Aid Kit, Halifax's Writer's Strike may have changed their name but they've stayed firmly on track with their thick, rock and roll inspired pop tunes. Their sound is full and rich thanks to two guitars, a bassist, multiple keyboards, and group vocals. Densely layered pop songs are punctuated by colourful signs with sing along lines, like pop ups on a children's TV show. It was a good transition between the opening and headlining bands and the crowd swelled fairly quickly as they churned out catchy hit after hit.
The finale of course was the debut of the new Summer EP from
Kuato
, Halifax instrumental rock specialists. The new EP is tightly produced and full of strong melodies and rythmes, and the live show delivers on the same. While the new songs concentrate mostly on the 'loud' side of the traditional post-rock 'loud-quiet' dynamic, the band still works in a few breathers before coming out swinging again. All this is accompanied by the fanciest homemade light show in Halifax, plus bonus projections that provided a great back drop to some of the bands more brooding tunes. You can still get the new EP at http://kuatoband.com/album/summer-ep – plus see Kuato, Something Delicious, and a host of other amazing bands this weekend at
Mestival 4
.
________________________
See all the photos from this show
HERE
.