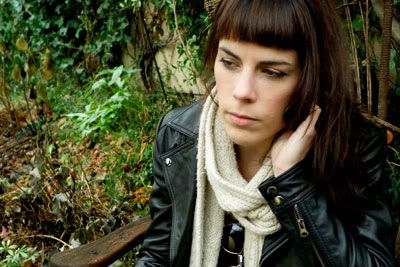 Black Hen recording artist from Montreal,
Roxanne Potvin
, recently released her new album
Play
.
Produced by Juno Award winner Steve Dawson (
Old Man Luedecke, Jenny Whiteley, The Deep Dark Woods, Jim Byrnes
) Play heralds Roxanne's triumphant return to Montreal resulting in an invigorated approach to her craft and some of the most arresting songs she has ever written.
Play was released on April 19 and after a flurry of spring and early summer shows, Roxanne will be back on the road and crossing the country in August and September.
To celebrate Roxanne has just released Born To Win as the second single from Play.
Born To Win by Roxanne Potvin
Roxanne Potvin Summer Tour Dates
09/08/11 Parc de l'Édifice Centennial Memorial Park, Beaconsfield, Qc
10/08/11 le Cagibi, Montréal, QC- duo w/Christine Bougie
12/08/11 Company House, Halifax, NS w/Gabrielle Papillon opening
13/08/11 The Dunk, Breadelbane, PEI
15/08/11 Baba's, Charlottetown, PEI
16/08/11 Plan B, Moncton, NB w/ Sara Jane Doiron
17/08/11 Creekside Pub, Fredericton, NB w/Jay Aymar
18/08/11 Vintage, Hampton, NB w/ Jay Aymar
19/08/11 Bourbon Quarter, Saint John, NB
22/08/11 The Cove, Westport, ON- w/Christine Bougie
24/08/11 The Moonshine Cafe, Oakville, ON- duo w/Christine Bougie
25/08/11 Maxwell's, Waterloo, ON- duo w/Christine Bougie
26/08/11 Paddy Flaherty's, Sarnia, ON- duo w/Christine Bougie
27/08/11 Huron club, Collingwood, ON- duo w/Christine Bougie
01/09/11 Nathan Phillips Square, Toronto, ON Noon show!
09/09/11 Festival Outaouais Émergent, Hull, QC
17/09/11 Blue chair cafe, Edmonton, AB
18/09/11 Ironwood grill, Calgary, AB
19/09/11 The Rockwater, Golden, BC
20/09/11 Ministrel, Kelowna, BC
21/09/11 The St. James, Vancouver, BC
23/09/11 Joe's Garage, Courtenay, BC
24/09/11 Hermann's, Victoria, BC w/Steve Dawson
25/09/11 Duncan Garage showroom, Duncan, BC
More Info:
http://roxannepotvin.com/
http://www.blackhenmusic.com/artist/roxanne-potvin