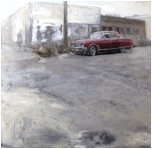 Tour Dates and New Live Band Announced
Toronto, ON – Fresh off a sold out spring tour with Lowest of the Low, which culminated in a 'house on fire' performance at Toronto's legendary Massey Hall this past weekend, it's no rest for the talented as Ron Hawkins announces the release of his fifth solo album, Straitjacket Love, out May 31st. His 12th career release, this new solo disc continues where 2009's 10 Kinds Of Lonely left off. It is a lyric based alt-country outing that explores the pitfalls and the small victories of navigating life and the relationships we experience. When Ron hits the road he will bring with him his live band, Ron Hawkins and the Do Good Assassins, which features Jesse Capon on drums, Alex McMaster on cello and keys, Derrick Brady on bass and Steve Singh on guitar. He will kick off the album with a pair of CD release shows at Kensington Market's Graffitti's in Toronto on May 26th and 27th (see tour dates below). He'll also be doing a Drake Hotel residency in Toronto every Wednesday from June 22nd to July 13th.
As one of the members of Canada's legendary indie bands, Lowest of the Low, singer/songwriter/multi-instrumentalist Ron Hawkins has enjoyed many accolades through the years. In 1996, 2000 and again in 2005, Chart Magazine honoured the group's 1991 debut album, Shakespeare My Butt, with spots in the top 10 of the Top 100 Canadian Albums of All Time, alongside Neil Young, Joni Mitchell and The Tragically Hip. In 2008 The Lowest of the Low was inducted into the Canadian Indie Rock Hall of Fame and awarded gold records for their first release, Shakespeare My Butt.
Lowest of the Low released three albums, Shakespeare My Butt (1991), Hallucigenia (1994) and Sordid Fiction (2004). In between Hawkins formed a new group, The Rusty Nails, releasing three albums in total, with 2000's Crackstatic garnering the band Indie Album of the Year. In that same year Hawkins was voted Songwriter of the Year by Now Magazine's coveted reader's poll. Hawkins has released five solo albums to date – The Secret of My Excess (1996), Hey Valerie (1996), Chemical Sounds (2007), 10 Kinds Of Lonely (2009) and Straitjacket Love. He has done extensive touring in Canada, Australia, United States and in 2010 toured China.
Hawkins has been splitting his time between songwriting, performing, and making a living as a painter. He sells his work all over the world from an artist collective web site that he helped found, called VictimlessCapitalism.com.
Tour Dates
September 3rd
- a matinee at the Seahorse Tavern as part of the Urban Folk Festival
- The Foggy Goggle
September 5th - The Carleton
www.ronhawkins.com