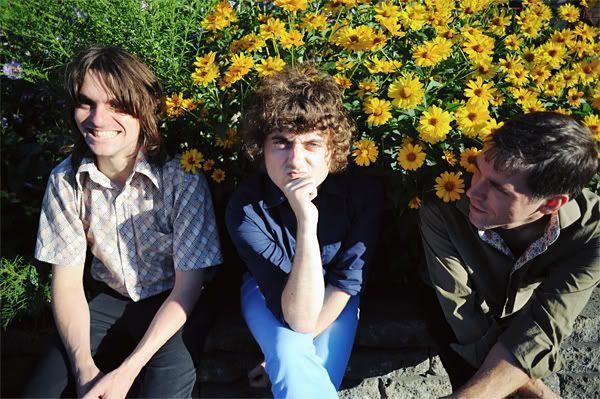 The Pinecones head out on tour this fall, taking their new line-up and revved up sound across Eastern Canada with Hamilton's favourite failed showman and Just Friends label-mate, B.A. Johnston. Dates are as follows:
Sept. 09 - Toronto, ON - The Press Club
Sept. 11 - Montreal, PQ - Casa del Popolo
Sept. 12 - Moncton, NB - Plan B
Sept. 13 - Sydney, NS - Governors
Sept. 14 - Cornerbrook, NL - The Backlot Pub
Sept. 15 - St. John's, NL - CBTG's
Sept. 16 - St. John's, NL - Rockhouse
Sept. 17 - St. John's, NL - The Ship (supporting: Mark Bragg)
Sept. 21 - Charlottetown, PEI - Hunter's Ale House
Sept. 22 - Halifax, NS - Gus' Pub
Sept. 23 - Sackville, NB - The Royal Canadian Legion
Sept. 24 - Fredericton, NB - The Capital
The Pinecones are set to release their third album with their third line-up in almost as many years. The Pinecones today are a boppy power pop trio featuring Brent Randall, Paul Linklater, and Marshall Bureau. Randall and Linklater, both used to working on their own, have teamed up to co-write a repertoire of classic pop songs focusing on their mutual love of smart chord changes, bouncy melodies, two part harmony, and chimey guitars.
Beginning as Brent Randall & his Pinecones in Halifax, Randall and a talented crew of Pinecones released a lush soft piano pop record We Were Strangers in Paddington Green in 2009. In 2010, with a move to Toronto, the group teamed up with Paul Linklater and released the lo-fi 60's psych pop Sage as a slimmed down garage-y four piece renamed The Pinecones. After losing two members, Randall & Linklater toured Canada & the U.S. as a duo before nabbing drummer extraordinaire, Marshall Bureau. Now, the trio of ragamuffins sound fuller, more exciting and polished than ever before thanks to Linklater's impressive guitar work, Randall's melodic bass playing, Bureau's studied percussion and of course their characteristic harmonies.
The Pinecones are finishing work on their third full length, tentatively titled, Ooh!. It's an upbeat rockin' little record, full of two minute singalong dittes that capture the fun of their live format and showcase their timeless writing style and knack for mega-hooks. Likely to draw comparisons to 70's power pop acts such as Big Star and Badfinger, The Pinecones are also motivated by their love of The Carpenters, 60's teen idols and 90's Brit Pop.