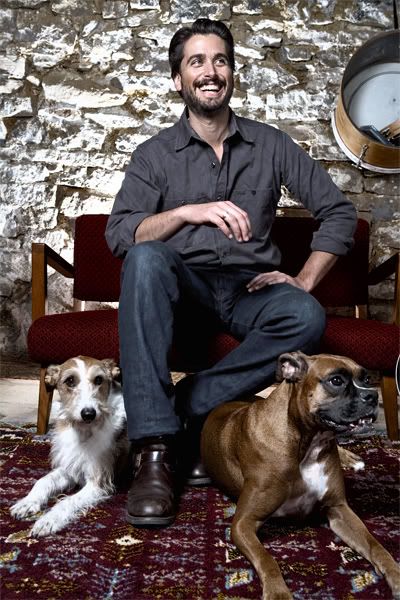 The Peter Elkas Band tours throughout Eastern Canada this Fall in support of their acclaimed album, Repeat Offender. Dates are as follows:
Sept. 01 - Charlottetown, PE - Baba's Lounge
Sept. 02 - Fredericton, NB - Nicky Zee's
Sept. 03 - Halifax, NS - The Seahorse Tavern
Sept. 04 - Halifax, NS - The Carleton Music Bar and Grill
Sept. 17 - Kimberly, ON - Kimberly Hall
Sept. 22 - Peterborough, ON - Red Dog Tavern
Sept. 24 - London, ON - Aeolian Hall
Sept. 27 - Montreal, QC - Le Divan Orange
Sept. 28 - Sherbrooke, QC - Centennial Theatre
Oct. 01 - Toronto, ON - The Horseshoe Tavern
A music obsessive for three decades now, Toronto's Peter Elkas is an unabashed believer in keeping things real and, on his new album, Repeat Offender, he's as loyal as ever to the rock 'n' roll sounds that ring truest to his psyche. Though partially crafted at Giant Studio (owned by Sebastien Grainger and Metric's James Shaw), Elkas mostly made this record in his basement with co-producer Ian McGettigan (Thrush Hermit) lending his expertise to the proceedings. The result is a romantic, 'buddy rock' album in the vein of Bruce Springsteen (Elkas' long-standing musical hero) or Keith Richards ("Cruel Thing to Do"), with sophisticated nods to Allen Toussaint ("Atlas"), Sam Cooke ("Cool Thing to Do"), and Frankie Valley ("Melody") among others. Not your typical allusions for an artist so associated with underground Canadian music, but then Elkas has always been something of a populist when it comes to writing great, memorable songs.
In the heady days of the 1990s, when "indie-rock" was blossoming and bursting, Elkas roamed North America with a razor-sharp, dynamically clever Montreal quartet called the Local Rabbits. Since the Rabbits went on "indefinite hiatus" in 2001, Elkas has expanded upon his songwriting in that band, kicking against the zeitgeist by crafting soulful pop and rock songs that are AM radio-accessible but belie one of the most thoughtful musical minds in the world. His first solo album, 2004′s Party of One, was produced by Don Kerr (Ron Sexsmith/Rheostatics). But hooking up with Austin, Texas roots legend Charlie Sexton (Arc Angels/long-time guitarist for Bob Dylan) really sparked and focused Elkas. With Sexton producing, he and his finely honed Elkas Band cut the emotive Wall of Fire and critics swooned upon its 2007 release, leading the band to tour extensively and play festivals like PopKomm (Berlin), In The City (Manchester U.K.), and SXSW (Austin, TX).