Thats right! Only 11 days away from Messtival and we finally have a schedule for you!
Starting at 2pm and ending a little before 5am, the fun never stops!
Be sure to get your ticket from these locations ($30 per ticket):
•Spin It (Moncton)
•Backstreet Records (Fredericton)
•Obsolete Records (Halifax)
Noisography has some tickets on hand as well, so if you see Tiffany out and about, let her know if you interested, or send us an email at Noisography@gmail.com and we'll hook you up!
Now, onward to that schedule!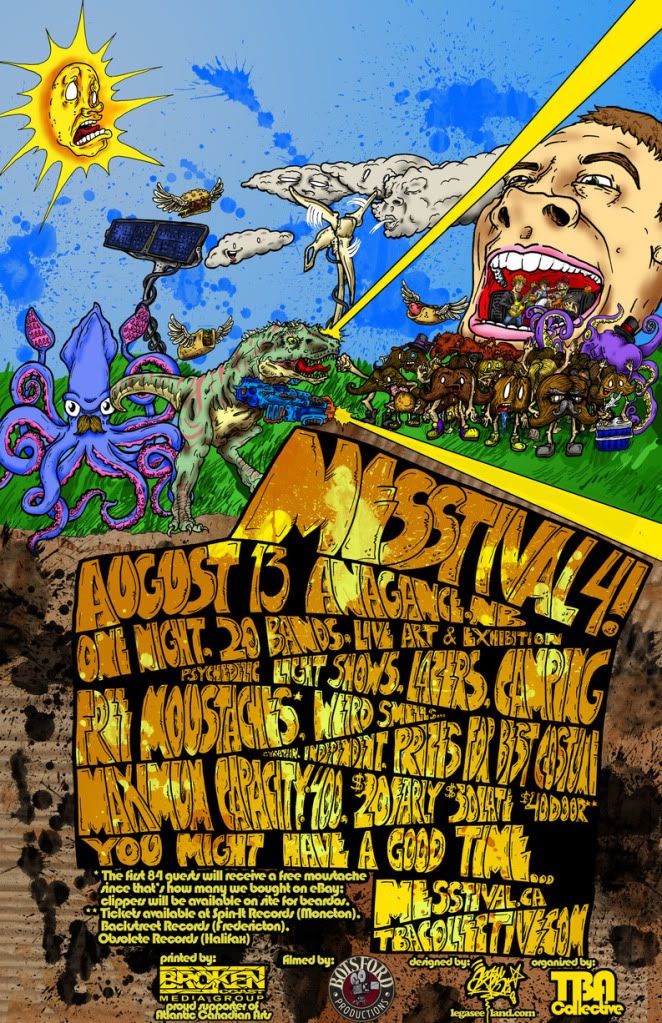 2:00PM - Vivianne Roy
2:40PM - Ghostown Belle
3:20PM - The Nuclear
4:00PM - Hospital Grade
4:40PM - Hôtesses d'Hilaire
5:10PM - Garbage Face
5:35PM - Tiny & The Mountain
6:00PM - Right On Yukon
6:40PM - Something Delicious
7:20PM - The Rhythm Section
8:00PM - Nerd Army
9:00PM - Phil Flowers
9:40PM - The Backyard Devils
10:40PM - Force Fields
11:40PM - Instruments
12:40AM - No Flyers Please
1:30AM - Kuato
2:20AM - The Caravan
3:20AM - The Divorcees
4:00AM - Acorn Rangers