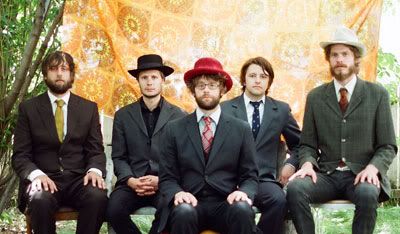 I've never murdered anybody before. I've never taken anybody up on a mountain cliff and stabbed them with a pen knife before.
But I like the idea of it.
That's what you will hear singer Ryan Boldt say in this look at the making of the award winning Saskatoon songsmiths new album The Place I Left Behind. Listen to the band talk about how their new songs came together "kind of like a good chilli" what other artists' influences float through their music "all the good stuff" and why they decided to produce this album themselves. All set over the backdrop of their hometown, Saskatoon.
The Deep Dark Woods Tour Dates
August 27 - Wood Mountain, SK @ Wood Mountain Folk Festival Festival Website
Sept 11 - Banff, AB @ The Banff Amphitheater w/ Blue Rodeo
Sept 15 - Winnipeg, MB @ West End Cultural Center
Sept 18 - London, ON @ Oh! Fest
Sept 19 – Stratford, ON @ The Loft
Sept 21 – Hamilton, ON @ Casbah
Sept 22 – Wakefield, QC @ The Black Sheep
Sept 23 – Montreal, QC @ Pop Montreal
Sept 24 – Toronto, ON @ Lee's Palace
Sept 25 – Guelph, ON at Van Gogh's
Oct 01 - Calgary, AB @ Dickens
Oct 02 - Lloydminster, SK @ Lloydminster Theatre