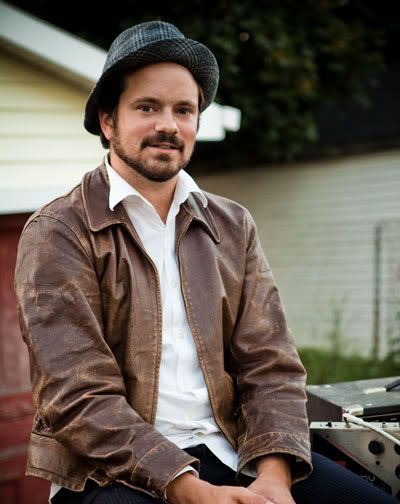 Songwriter from Halifax band Caledonia steps out on his own with four song EP recorded in his apartment and finished and mixed by John Critchley (Dan Mangan, Elliott BROOD) at Toronto's Green Door Studios. Hello Jesus will be followed up Steve's debut long player in early 2012.
Hello Jesus is Steve Gates' debut record. It is a 4 song EP that introduces Steve's songwriting before his full length LP, is released in 2012. The title track, Hello Jesus is one of Steve's first songs, written years ago while busking on Granville Island, Vancouver, BC. It is a mildly blasphemous love song dedicated to the city of Halifax with the friendly wit of a John Prine song. This EP also includes a rustic interpretation of "You were always on my mind" sung in duet with Catherine MacLellan as well as a tribute to the missing women of Highway 16 in British Columbia.
Steve Gates - Hello Jesus by killbeat music
These songs are from a collection of songs that were recorded in Steve's apartment after a public talk given by Daniel Lanois. Not only had Mr. Lanois described how he had recorded one of Steve's favorite records, Emmy Lou Harris' "Wrecking Ball", but he had also empowered the audience to go and be ʻreckless' in the studio. The next day Steve and some friends set up a make shift studio and began to track the songs for this record. The recordings were rough, but had captured the spirit of the songs. Producer John Critchley (Dan Mangan, Elliott BROOD, The Warped 45s) then nurtured the vibe of the record with some strategic additions and artful mixing.
Over the past few years Steve has been touring and releasing records with his band, Caledonia ("We Are America" was nominated for 5 ECMA awards in 2010). Recently, Steve has ventured out on his own as a solo performer. This past July, he performed at the Dawson City Music Festival, sharing the stage with Amelia Curran and Yukon Blonde. This performance was preceded by a nearly 2 month Canadian tour with roots rockers, The Warped ʻ45s. In the past, Steve has performed with John Rae Fletcher, Rose Cousins, The Divorcees and opened countless shows for Caledonia on the band's national tours. Steve will be touring Hello Jesus in select Canadian cities this fall.