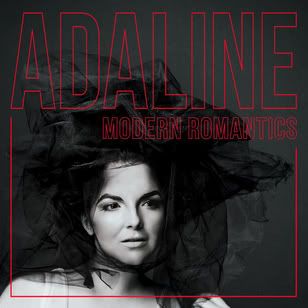 "Wasted Time" MP3 available for download now.
Vancouver -- Light Organ Records is delighted to release details of the return of Adaline. Modern Romantics will be available on November 1, 2011 and was produced by Hawksley Workman with additional production from Marten Tromm, and Tino Zolfo.
Get a sneak-peek by downloading an MP3 for "Wasted Time" here.
Modern Romantics is invested with the depth and imagination you only ever get from high-end, ultra-talented music nerds, whether it's in the meticulously layered percussion and noise – timpani included - of the Metric-gone-industrial "Wasted Time", or the tonal shifts that bring such deliberate force to Adaline's cathedral-sized ballad, "Say Goodbye (I Won't Even)". Adaline achieves near Judy Garland levels of melodrama on "That's What You Do Best", the stately electro-torch song that opens Modern Romantics. But she doesn't get there without boxing your ears with wiggy sax (from Shuffle Demon Richard Underhill) and unhinged guitar solos (by Workman) on the way, the latter sounding like it was recorded in a reinforced missile silo. There's a lot of tastefully rendered sonic action on the way to that quivering, love-burnt climax.
"I wanted to take a very European approach to the record," she says, adding that she and her busiest partner, Hawksley Workman – who played on and produced nine of its twelve tracks – were throwing names like Portishead, Bat for Lashes, La Roux, Beck, and Goldfrapp around when they entered Toronto's Canterbury Studio for four weeks. "Groove artists," she calls them. "I wanted it to sound world class. A lot of people seem to be doing these very chill, laid back, organic records, and I kinda wanted to be a little more aggressive in terms of the sounds and production."
www.adalinemusic.com