Our trip to Mfest started with the long walk over the MacDonald bridge, all the while accompanied by the sound of
Glory Glory
echoing across the harbour. After a quick bite to eat again the backdrop of the fantastic
Carmen Townsend
(who's cover of Sabotage once again drove the crowd wild), we made our way into the festival proper.
Attendance was still fairly low at this point, and Alderney is a fairly large venue (being really nothing more than a giant parking lot), so there was no issue getting to the front of the stage to catch In Flight Safety. Their sound is just as safe as ever but it was well suited for the crowd and the afternoon sun.
Diamond Rings
brought his one man show to the stage next, and I have to admit he did a lot more than I gave him credit for, before. Besides playing a song from the radio that I actually recognized (!) he bounced around the stage, banging on electric drum pads, playing his guitar, and hopping back and forth between mics or between the stage and crowd.
Surfer Blood
were the only band on the lineup with whom I wasn't familiar, and every one I talked to seemed to be pretty excited for their set. Maybe because of the hype, I found their set a little bland and straight forward. They were tight and their songs were fun and creative, but they were a little safe for me.
Listen to the entire Surfer Blood set from Mfest on our Live Concert Series page:
Noisography LIVE Concert Series - E9

Recorded LIVE at MFest (Alderney Landing Events Plaza - Dartmouth Waterfront) August 07th 2011

Surfer Blood Are: John Paul Pitts Tyler Schwarz Tom Fekete Kevin Williams www.surferblood.com


Ted Leo and the Pharmacists
were probably the biggest surprise of the night for me. Having seen them a few years ago at a Pop Explosion showcase, I was prepared for the same boring, yuppie rock as I (and many others had seen then). But the three piece quickly drew me back from the beer garden to the front of the stage with fun, heavy, psychedelic punk/garage songs. The whole band had way more energy and enthusiasm than last time, and fantastic guitar playing accumulated with the much talked about Hendrix-style rendition of Fairwell to Nova Scotia. Whatever the reason the band was clearly far more into their set this time and it showed.
I remember seeing
Hey Rosetta!
only a few short years ago in local venues like Gus' Pub, the Seahorse, and eventually the Marquee. Now here they are opening for Broken Social Scene at a major festival, and this is the first time I've seen them in Halifax in some time. They've worked hard for their success and they still show off the same pop/epic atmosphere combination that has made them so successfully. Like any good singer/songwriter oriented band they use their many additional instruments to flesh out standard pop songs to artful masterpieces. While the band could easily branch out into wider arrangements and more experimental sounds, they've stuck with the formula that's brought them success and you can't argue with that.
Listen to the entire Hey Rosetta! set from Mfest on our Live Concert Series page: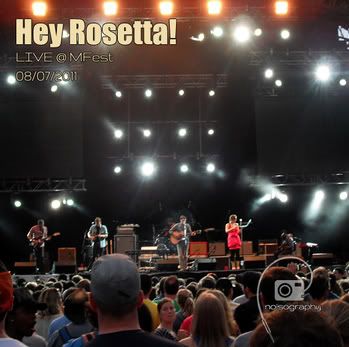 Noisography LIVE Concert Series - E10
Recorded LIVE at MFest (Alderney Landing Events Plaza - Dartmouth Waterfront) August 07th 2011 Hey Rosetta! are: Tim Baker - Vocals, Guitar Adam Hogan - Guitar Josh Ward - Bass, Vocals Phil Maloney - Drums, Percussion Romesh Thavanathan - Cello Kinley Dowling - Violin www.heyrosetta.com


Finally, one of the biggest and most successful Canadian bands of recent times took the stage for what was quickly called out to be their last show in Halifax for "a long time."
Broken Social Scene
take the same lineup as a band like Hey Rosetta! and use it to break all the rules. Xylophones, synthesizers, and a wildly varying number of guitars broadcast thick, ethereal waves of sound, underneath which are carefully planted pop hooks. The band show no weak points, with a well rehearsed back catalog, strong vocals, and a comfortable attitude without any sign of snobbishness. Due to the length of their set we found ourselves walking back over the bridge in the light rain that started falling just as the band had taken the stage. It was only fitting that their set washed all over Halifax, as they reiterated their lack of shows, in our faircity, in the near or far future, leading some to speculate about the band's future.