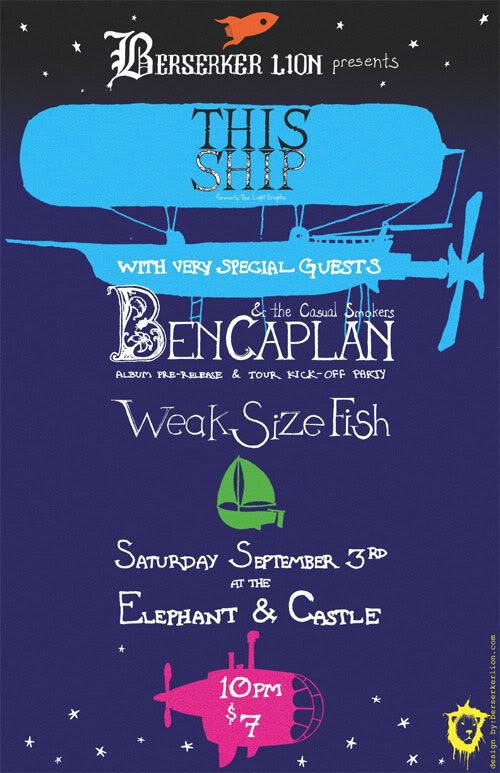 Berserker Lion Music Collective Presents...
This Ship
(formerly The Light Brights)
, Ben Caplan & The Casual Smokers, and Weak Size Fish Sept. 3rd!
A new line up of crazy cats who combine the jams of Wintersleep, the soul of the Black Keys, and the full-sounding layers of Arcade Fire into a new, indie-rock, multi-vocalist, multi-instrument sound. This Ship is excited to play their brand new songs for the very first time!
To celebrate, they've rounded up very special guests...
Ben Caplan & The Casual Smokers!!!
This will be Ben's Album Pre-Release & Tour Kick-Off Party - did you hear he's going all the way to Europe? Again?! Watch out! His voice is even bigger than his beard, and he's armed with many instruments - guitar, banjo, melodica and keyboards! His band, The Casual Smokers, have their origins in folk, roots, roma, klezmer, and jazz. He's been compared to world class performers from Tom Waits to Freddy Mercury and everything in between. This is your chance to see him live!
Weak Size Fish
are hardly the small scales in the pond. They've played NXNE, Sunseekers, Evolve, and ECMA's, just to name a few. With tight rhythms and crafty melodies blended with a non-stop, hard-hitting East Coast flavor, the sounds are enough to make any listener want to get up and dance. Since releasing their debut album, 'Off We Go', in March of 2009, the band has made no plans of slowing down. Their sophomore album, currently in production, is set to be released sometime in 2011.