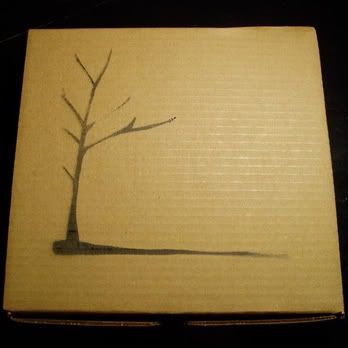 by Dan Nightingale
Brother John's "the tiniest bones, the infinite everything" EP starts off like a lilting orchestra, with new age flutes and chimes, evoking an atmosphere like an acoustic guitar being played in a forest full of musical fairies. A gentle chorus (in the classical sense) fades in. Given that their bio explicated that they were "a 14 piece acoustic instrumental band that's been largely influenced by post-rock bands" I didn't expect vocals, but the muted drums are a nice touch. The first track proper is "We Now Believe," mostly composed of the aforementioned flutes in slow, theatrical chord progressions.
It's all very soundtrack-esq., but for the strong "lead" acoustic guitar which anchors the songs with a "songwriter" vibe. All the expected modern indie artsy signs are there, as the physical version of the EP "features handmade sleeves, hand stenciled boxes, custom hand stenciled wrapping... [and] a book of original album-inspired poetry by Tim Felton," according to the bandcamp site. Of course hardly anyone ever gets a real physical copy of an album now, which of course is what makes it all the better when can you get hands on one.
"Stanley Messenger" might be the band's "pop single" (it's given away for free on the bandcamp) and features a faster pace and tempo and some basic word vocals, which are simplistic but very nicely done. Everything on the album sounds cleanly recorded and roomy, as you'd hope an acoustic orchestra would be. The very nice rising outro to "Stanley Messenger" fades into an interlude with sampled vocals (the hallmark of any great instrumental band's first EP).
I would have liked to hear some deeper sounds, be that electric bass or just deeper/more pronounced cello, but it does seem like there are some parts lacking a little in bottom end. To be fair one could argue that it was more important to keep the medley of instruments cleanly separated. "Time is a Mysterious Thing" features more flighty guitar and – nerd alert – it reminds of something from the Diablo soundtrack. The full wind section (or is it brass?) lilts in with an upbeat melody before sad minor key vocals came in, all of which are then taken over by the chugging string section.
This basically illustrates the structure of a Brother John song, but the band is most effective when the the sections all work together at once, like (despite some slightly of kilter singer) the ending crescendo of "Time is a Mysterious Thing" (also showing the band's talent at the musical denouement). All though much of the album follows the same basic style and mood, it's very well done over all and the result tends to be beautiful and moving – like music you'd hear playing in a rainforest.
Though it's unlikely a 14 piece band from Indiana will ever find itself in Halifax, thanks to the magic of the Internet you can listen to Brother John online and order their very thoroughly packaged album. Recommended for fans of A Silver Mt. Zion or new age mediation – try it on headphones while you're sleeping or give it to your aunt as a birthday gift. Whatever your choice it's available at
http://brotherjohn.bandcamp.com/