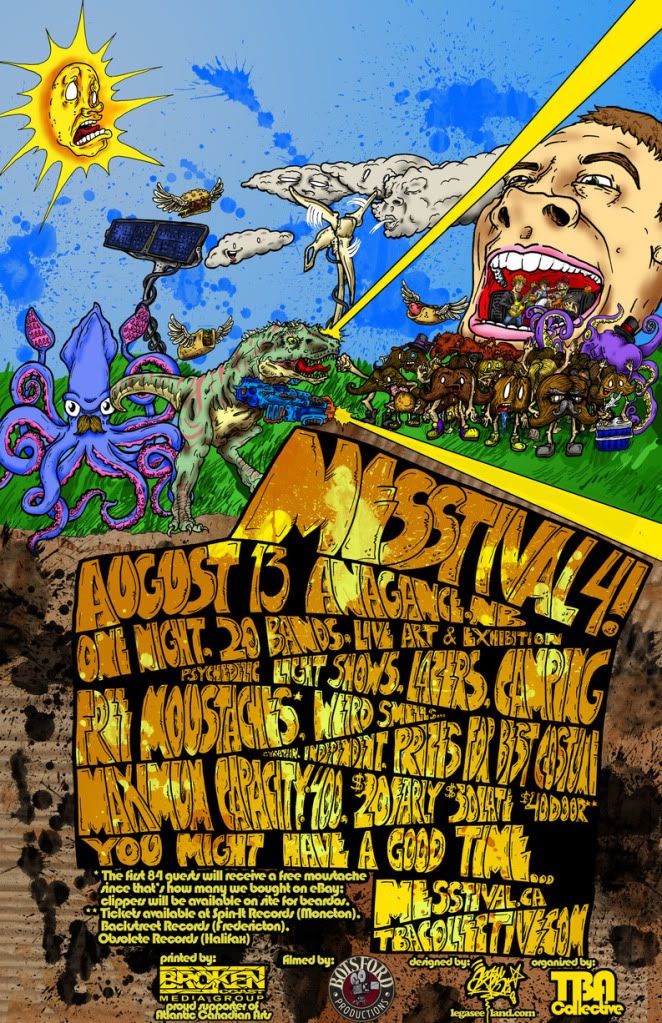 In our excitment for this fantastic little festival in Anagance, NB, we're giving away 2 separate tickets to 2 very lucky people!
All you have to do is click "Attending" on our Facebook Event page and you will be automatically entered to win!
Don't have facebook?
Jest send us an email with the subject line "MESSTIVAL TICKETS" and we'll throw your name in the hat! *yes... there will be a hat!*
WE WILL DRAW THE WINNERS on
AUGUST 7th 2011!
Check out http://www.messtival.ca/ for all the info, but in the meantime here is a short rundown...
"The TBA Collective is proud to announce the full list of bands performing at this year's Messtival, an outdoor music festival taking place on Saturday, August 13th, 2011, in Anagance, NB. Organized by TBA, a non-profit cooperative, Messtival is an all-day, all-night music concert coupled with a psychedelic light show, live art
and art exhibits, multimedia performances, lazer tag,... yoga, facepainting, food and overnight camping under a full moon. The gates open at 1 p.m., with music getting underway at 2 p.m. trailing off into the night.

OFFICIAL MESSTIVAL LINE-UP:

THE BACKYARD DEVILS (Moncton) - www.reverbnation.com/theba​ckyarddevils
FORCE FIELDS (Fredericton) - http://www.myspace.com/the​fussypart
THE DIVORCEES (Moncton) - http://www.thedivorcees.co​m/
NERD ARMY - http://nerdarmytheband.ban​dcamp.com/
THE CARAVAN (Halifax)- www.thecaravanmusic.com
INSTRUMENTS (Halifax)- http://www.instrumentslab.​com/
KUATO (Halifax)- http://kuatoband.com/
GARBAGEFACE (Toronto)- http://everyoneisdoomed.or​g/garbageface/
TINY & THE MOUNTAIN (Toronto)- http://tinyandthemountain.​bandcamp.com/
RIGHT ON YUKON (Halifax) - http://rightonyukon.bandca​mp.com/
ACORN RANGERS (Charlottetown)- http://www.myspace.com/aco​rnrangers
NO FLYERS PLEASE (Halifax) - http://noflyersplease.band​camp.com/
VIVIANNE ROY (Moncton) - http://www.myspace.com/viv​ianneroy
GHOSTOWN BELLE (Moncton) - http://ghostownbelle.bandc​amp.com/album/live
THE NUCLEAR (Moncton) - http://thenuclear.com/
HOSPITAL GRADE (Saint John) - http://www.hospitalgrade.n​et/
LES HOTESSES D'HILAIRE (Moncton) - www.myspace.com/leshotesse​sdhilaire
SOMETHING DELICIOUS (Moncton) - http://www.myspace.com/som​ethingdeli
THE RHYTHM SECTION (Moncton) - www.youtube.com/therhythms​ectionband
PHIL FLOWERS (Moncton) - http://www.myspace.com/phi​lflowers

Check out the facebook event for all the details!
https://www.facebook.com/e​vent.php?eid=1944831905772​38