Overview & Photos by Stan Béland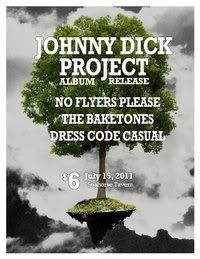 Still suffering from a post-Metallica hangover, some shows around the city this weekend seemed to be a little under attended. This is the unfortunate fall-out of having one of the biggest bands around grace our fair city with their presence, because had Metallica not played on the Garrison Grounds on Wednesday night, more of you may have come out to the Seahorse on Friday for the Johnny Dick Project CD Release.
First up was
Dress Code Casual
, hailing from the sprawling metropolis of Yarmouth, Nova Scotia. DCC was down a member due to a scheduling conflict, but the newly minted trio was ready to put on a show despite their being down a guitarist. The set started strong with a couple of rock and roll tunes that were loud, fast and well-written. Things kind of fell apart when the band played their ballad/slow jam which was trying to capture the same magic as a song like Patio Lanterns by Kim Mitchell, but turned into a bit of a rambling story about getting wasted, not that we don't all enjoy getting shit-hammered on the weekend. Besides that anomaly the band played a good set of original rock tunes and warmed the crowd up for the drunk-ass locust storm that was about to be set upon the Seahorse by the next band.
The Baketones
are loud, crazy, sexy fucks. You do not want your daughter to meet them, you do not want her to get into their van, you do not want her to bring one of them home. If she does, you better send her ass to a convent because if you don't, she won't be your little girl anymore; she'll be a demon succubus craving only rock and roll and organ solos. When the Baketones took to the stage, the crowd at the bar was a little bit bigger than it had been for DCC, but still a touch thin. This did not stop the band from playing one of the better sets I've seen at the Seahorse. The vibe is pure party mixed with a little bit of generalized violence. Never in one set have I seen more interesting things done with a synthesizer; Dude played it like a keytar, took off one of the legs of the piano and played "slide organ" and, I swear to God, the guy did it with a beer in his hand. ALWAYS. This is not to say that everyone else in the band was invisible; the stage was full of energy, and the crowd that made it out a bit early absolutely loved it. If you get a chance to see these guys, do not pass it up.
No Flyers Please
. This three-piece is well known in Halifax and it showed; lots of peeps on the dancefloor, people singing along, and by far, the loudest of the four bands that played that night. The one staple of their set was the bass. I've never heard a mix so bass-heavy from a trio before. Seriously, all you could hear was the bass. This seemed to suit the crowd just fine, as the bass is the most rump-shakingly delicious of all instruments. The floor in front of the stage quickly turned into the funkiest, sweatiest spot in town and NFP proceeded to play a full set of their quirky, poppy, super tights jams. You can definitely hear 80s new wave/pop influences behind the wall of bass and guitar, which means that NFP are here for a good time, and they want you to join in. My only hang up with the set was that, because the bass was so loud, the guitar, drums and vocals got lost in the mix. This is unfortunate because when I was close enough to the stage to hear everything that was going on, the band sounded great together. Maybe because it was my first time seeing the band I was missing out on the fact that this is part of their sound. If so? Bass on NFP, bass the fuck on.
The Johnny Dick Project
came to the stage looking like a ragtag assembly of musicians; there were metalheads, there was a dude who'd been wearing an 1800s suit complete with, what I can only assume was, a really fancy bolo tie, there was a dude rockin a SWEET 90s style and then, of course, there was Heather Doran, lead singer. There's something about a female vocalist that just immediately attracts me to the band, especially when they can sing like Heather. JDP busted into their set playing a mix of straight up metal, slow southern rock jams, and 70s rock, all bolstered by Doran's nearly pitch perfect vocals. Punctuated by back up vocals from both guitarists, and backed by a solid and super energetic rhythm section, JDP owned the crowd from the word "go." The band hugely impressed me and a lot of what they did was right up my alley. It was one of those don't-judge-a-book-by-its-cover situations that I have every now and again that always make me smile. Honestly, these guys are up there with Broken Ohms for me when it comes to mixing big, bluesy vocals with metal and rock rhythms. Keep your eyes peeled for JDP; with an album out, a solid lineup and great musicianship, this is a band that you'll want to check out if you've got the chance.