A long overdue overview of our first show!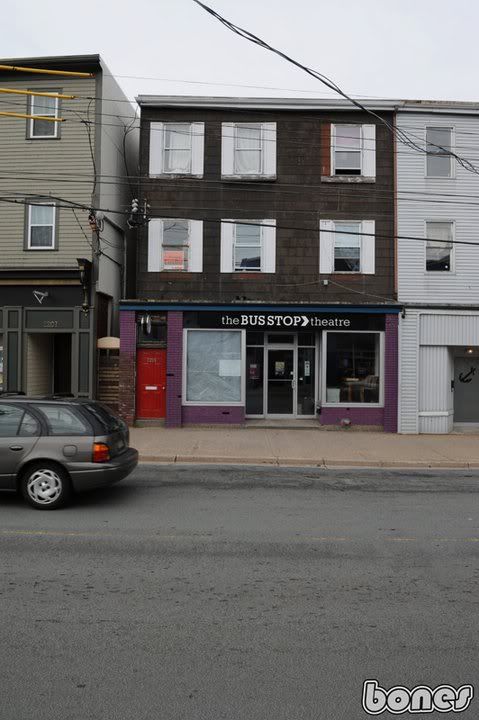 For the past couple of years we have dedicated our spare time, blood & sweat on capturing as much of the Halifax music scene as humanly possible. We've witnessed the tricks of the trade - what works in a live setting and what doesn't – so it was inevitable that we would attempt to apply what we've learned and organize our own live show. We wanted it to be an event, a true night out. We conceived a multimedia shindig-supreme that would encompass photography, music, painting, colouring contests and free snacks! We knew the Bus Stop Theatre was the only choice for what we had in mind.
We spent hours in preparation, building stages, hanging photos and lighting the space, none of which we would have been able to get done in time if it weren't for the help of our fantastic friends and the lovely Bus Stop folks. As you can see from the pictures, the showroom looked amazing.
The night ended up being a smashing success.
The showcase started at 7pm, which is very early in this town, but the theatre had a healthy draw all night. There was plenty for people to enjoy.
The showcase featured live music photography by our very own
Tiffany Naugler
as well as
Scott Blackburn, Richard Lann, Moe Chandler, Marc Xavier LeBlanc "DJ Bones", Aimee Pie, Ryan Wilson, Chris Brown, Mike McMahon
and
Clare Waque
(owner of the Bus Stop, who did an amazing job lighting the showroom. Sound activated lights underneath the stage? Hell yes).
Musically, we started things off with a few acoustic sets.
Richard Lann
lulled listeners with his tender sounds, Noisography's own
Alex Goyetch
e followed with a set of songs that sounded like a lonely troubadour bred on acoustic Led Zeppelin,
Parade Square
played the last acoustic set and added a little bit of rock n roll attitude which made a nice segue into the full band portion of the night.
Richard Lann:
Alex Goyetche:
Scribbler
was the first band up and as always they put on frantic and intense show that is equal parts humour and passion. Also they are fun to dance to.
Bike Rodeo
kicked out the jams next, bashing and wailing their way into everyone's hearts. And as promised,
No Flyers Please
danced us into the night. Everyone loves these guys (and gal) so we were stoked to have them end the party with a bang.
Scribbler:
Bike Rodeo:
No Flyers Please:
No Flyers Please also hosted a colouring contest, which is just good fun.
Speaking of contests, Coast approved "Band to watch"
Hind Legs
had a raffle where you could win a dinner & a movie with the band. I didn't win. It's your loss Hind Legs, you missed out on tacos and Evil Dead II.
Sharon Hodgson
arrived for some live painting. She had a spot next to the stage where she painted what was unfolding. It was fascinating to see the painting gradually come together. The end product was a stylized version of No Flyers Please that any fan would be proud to have on their wall.
It was such a great night and we received so much love from the arts community that we can't wait to do it again. We're already cooking up ideas for our next showcase.
But before we end this post, with a bunch of random photo memories of the night We would just like to stop and thank everyone who was involved in making the night a success!
Our Door People:
Danielle Albert, Kyle Ladouceur, Derrick Dixion
(Tiffany personally thanks Derrick for spending hours doing photo hanging as well) &
Christina Richard
Our Merch/Photo Sales Girls:
Halloway Jones
&
Sarah Cooper
The Bus Stop Theatre
&
Clare Waque
Live Recording and Sound guy:
Jay Methot
(he'll have live recording of all the sets at some point).
Red Tentacle
&
Aperture Studios
for being our major sponsors.
All the
bands
and all the
photographers
- there would have been no show without you guys!
Isaac
&
Jeremy Hansen
for the AMAZING poster work!
Sharon Hodgson
for doing the amazing live painting.
Josh White
&
Pavement Postering
for covering all our poster needs.
DJ Bones
,
Richard Lann
,
Jonanne Tinker
for the photos that make up this post.
We can't wait to bring you another night of awesomeness in the future!