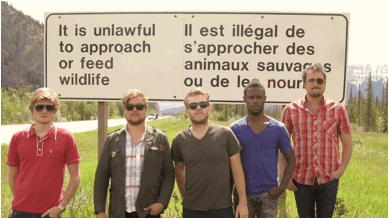 TOUR WITH HOLLERADO KICKS OFF SEPTEMBER 14th
SHOWS WITH THE DAYTROTTER BARNSTORMER 5 TOUR
FIRST SINGLE HITS ROCK RADIO IN AUGUST
Toronto, ON – July 26, 2011 –
A different kind of wildlife will be roaming across the country this fall! Fresh off their Canadian and U.S. tours, followed by Ontario dates supporting Young The Giant, Toronto's own Wildlife has been invited out on the road with fellow Canadian rockers Hollerado. With dates across Canada, the shows will kick off in Sudbury, ON on September 14. Leading up to the tour, they will be back in the U.S. on the Daytrotter Barnstormer 5 Tour (all dates listed below).
A fixture in the Toronto concert scene, Wildlife is known for their great sound and amazing high-energy shows. From the second they take the stage in their black dress shirt and blue armband uniform, to the very last note, all five guys give it everything they've got. That energy spreads out into the crowd as the audience dances, jumps and sings along at the top of their lungs, fuelled by the intensity flowing off the stage. With a killer combination of great songs and irresistible stage presence, there's no doubt that this band walks away with new fans-for-life after every set.
The guys will be heading back to the states in August and September as part of the Daytrotter Barnstormer 5 Tour – a travelling multi-band tour, playing in barns across the eastern U.S. They will share the stage with White Rabbits, Doug Paisley, Princeton, Hacienda, Hundred Visions, Madi Diaz, Keegan DeWitt, and Nona Marie & The Choir.
Wildlife's debut album Strike Hard, Young Diamond was released late last year on Easy Tiger/Wax Records, and is available now on iTunes. The album features the band's undeniably catchy sound that blends power-pop, rock, and soul. The first single will be unleashed to rock radio mid-August with a video to follow shortly after.
Don't miss your chance to check out Wildlife as they migrate across North America!
Aug 11 – Peterborough, ON – The Red Dog
Aug 12 – Ottawa, ON – Live Lounge
Aug 30 – New Wilmington, PA – Chaseland Barn #
Aug 31 – Akron, OH – Conrad Botzum Farmstead Barn #
Sept 1 – Dexter, MI – Lakeview Farms Barn #
Sept 2 – Monticello, IL – Kalyx Center Barn #
Sept 3 – Maquoketa, IA – Codfish Hollow Barn #
Sept 14 – Sudbury, ON – The Townehouse *
Sept 15 – Sault Ste. Marie, ON – Loplops *
Sept 16 – Thunder Bay, ON – Crocks *
Sept 17 – Winnipeg, MB – West End Cultural Centre *
Sept 18 – Regina, SK – The Exchange *
Sept 19 – Lethbridge, AB – Tongue & Groove *
Sept 21 – Vancouver, BC – Venue *
Sept 25 – Cumberland, BC – Waverly Hotel *
Sept 27 – Nelson, BC – Spiritbar at the Hume Hotel *
Sept 28 – Fernie, BC – The Grand Central *
Sept 29 – Calgary, AB – Republik *
Oct 7 – London, ON – Call the Office *
Oct 8 – Hamilton, ON – Casbah *
Oct 9 – Barrie, ON – The Mansion Night Club *
Oct 12 – Peterborough, ON – Market Hall *
Oct 13 – Kingston, ON – The Mansion *
Oct 14 – Brantford, ON – The Alexander *
Oct 15 – Toronto, ON – The Opera House *
# with the Daytrotter Barnstormer 5 Tour