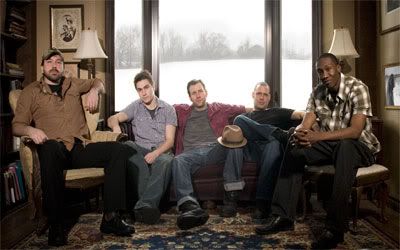 Pheromone Recording Artists from Toronto have started the long trek back east after playing in western Canada for the last five weeks in support of their second full length album, Matador Sunset.
In the meantime, they have released Talk About Evil as the second single from their new album as they prepare for their upcoming show in Halifax on August 6th @ The Seahorse Tavern.
After a winter holed up in the studio, again with producer John Critchley (Dan Mangan, Elliott Brood) The Warped 45s have emerged with Matador Sunset. Like The Band, they write durable, earthy songs with superb vocal arrangements. Like Blue Rodeo, they have two singer-songwriter frontmen who've known each other since childhood in first cousins Dave McEathron and Ryan Wayne McEathron. Like The Weakerthans, they present unique, arresting images in novel ways: "hard-charging the red cape of a matador sunset" as a metaphor for touring, and "carried away on the aluminum wings of the great rivet-speckled bird" to describe an airplane flight. Raising the bar on an impressive debut, the band's sophomore full length album cements their position among the many talented artists and bands that have made lasting contributions to the Canadian musical iconography.
The Warped 45s - Grampa Carl
by
killbeat music
Warped 45s Tour Dates
08/02- Montreal, QC - Divan Orange
08/03 St. Andrews, NB The Red Herring Pub
08/04 Fredericton, NB - The Capital
08/05 St John, NB - Peppers Pub
08/06 Halifax, NS- The Seahorse Tavern
08/08 Charlottetown, PEI - Baba's
08/09 Moncton, NB - Plan B