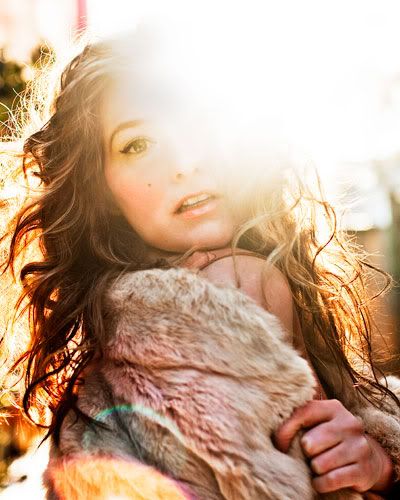 Toronto Based Songwriter From Halifax To Release Brian Deck (Modest Mouse, Iron & Wine) Produced Sophomore Solo Album On Hidden Pony, Releases First Single Gosh Darn Damn.
Born and raised in Halifax, Nova Scotia, Rebekah Higgs spent summer vacations growing up on humanitarian trips with her evangelical Christian parents. Although Rebekah later diverged from that path, there's a sense of spiritual joy running through her sophomore album Odd Fellowship, her first LP since 2006's self-titled debut. Organically warm and easygoing, you'll hear that rush of joy in the most unlikely places, from the Motown-sweetened doowop "Gosh Darn Damn," to the psychedelic confessional "Little Voice," to the smoky-eyed, whirling dervish "Stick and Poke."
Rebekah Higgs - Gosh, Darn, Damn
by
killbeat music
Odd Fellowship is named after the Odd Fellows lodge in Riverport, Nova Scotia, where Rebekah recorded the album over two winter weeks with Brian Deck (Modest Mouse, Iron & Wine) – to whom she'd sent a handwritten note asking if he'd produce – and Diego Medina (Chad VanGaalen) as engineer. Oddly enough, female odd fellows are traditionally referred to as Rebekahs, which in Hebrew means "water giver."
Odd Fellowship is a family affair, with guest appearances by Nathan Doucet and Jason Vautour, Rebekah's glittery cohorts on her alterego band, the electro-glam dynamos Ruby Jean and the Thoughful Bees, plus Chris Pennell (Joel Plaskett and The Emergency) and the wee voice of three-year-old nephew Easton. Several songs will be familiar to fans, having appeared on Rebekah's critically praised 2010 four-track teaser Little Voice.
While Rebekah's sweet, playful voice, looped on her Kaoss pad, drives this album, Odd Fellowship is underwritten by a subtle maturity and songwriting confidence – an admirable journey for a former theatre student who taught herself to play guitar. An album designed to take the party from late night to lazy brunch, Rebekah experiments with musical styles, shifting gracefully from melodic folk to psych-pop, with big guitar licks and tight laptop beats. Take the stripped-down heartbreaker "Miserably Together," a sober reminder that nothing lasts forever, balanced with the guitar-driven electro "Drunk Love," a relentless dancefloor release of whiskey and summer air, delivered with the cockiness of Beth Ditto, and the throbbing go-go beat of bonus track "96" (available only as a download on iTunes). Lyrically, the electronicfolk song "Youth & Beauty" bridges the gap between singer-songwriter sentimentality and the raw realities of modern love.
Now living in Toronto, Rebekah has been tirelessly touring for the past five years as a solo artist and as the charismatic frontperson for Ruby Jean, but has still found time to paint, act and launch a line of handcrafted jewellery. She's somewhat of a missionary, too, as co-founder of Halifax's new indie-music festival, Long Live the Queen.
Rebekah Higgs' Odd Fellowship Tour Dates
Sept 8 - London, ON @ Call the Office
Sept 16 – Wakefield, QC @ The Blacksheep Inn
Sept 27 – Halifax, NS @ The Carleton
Sept 28 – Moncton, NB @ Plan B
Sept 29 – Fredericton, NB @ The Capital
Sept 30 – Saint John, NB @ Peppers Pub
Oct 01 – Quebec City, QC @ The Scanner
*** More Tour Dates Announced Soon ***
More Info:
http://www.hiddenpony.ca
http://www.rebekahhiggs.com/