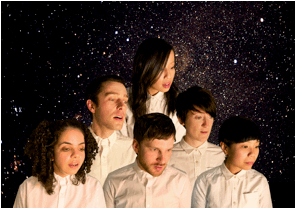 NEW ALBUM METAL MEETS
Available September 27, 2011 On Last Gang Records
-Release first single Niagara-
-New Album Teaser-
Toronto, ON – July 18, 2011 – Ohbijou is thrilled to announce their upcoming tour in support of their third album: Metal Meets – out September 27th on Last Gang Records. The band is excited to share the new songs from Metal Meets as they tour Eastern Canada, with dates in Ontario. Their highly anticipated follow up to Beacons demonstrates the growth that this talented group has experienced over the past two years. The first single Niagara is a sneak peek of the sonic experiences imaged during the creation of Metal Meets. Check out the new album teaser
here
.
Ohbijou: "Niagara" by wearesolidgold
Metal Meets is the band's most mature and creative offering to date. Recorded by acclaimed producer Jace Lasek (also of Besnard Lakes fame) in Montreal's Breakglass Studios, the band (James Bunton, Ryan Carley, Anissa Hart, Heather Kirby, Jenny Mecija and Casey Mecija) present an album that cements their status as one of Canada's most innovative groups. Taking inspiration from territories traversed outside of familiar realms was invaluable and led to Ohbijou producing a thoughtful and experimental record. In Metal Meets listeners will hear the band realign their sound, using delays, distortions and reverbs to capture a more pensive and experimental relationship with their music. This is an album that will draw new audiences while expressing commitment to devoted fans.
The band has shared the stage with the likes of Bright Eyes, Sarah Harmer, Great Lake Swimmers and Final Fantasy. They have also taken part in many festivals such as the Arabaki Rock Festival (Japan), End Of The Road Festival (UK), The Great Escape (UK), Electric Picnic (Ireland), Osheaga and recently the Ottawa Jazz Festival.
Keep your ears open for Metal Meets this fall and get ready to discover the next chapter for Ohbijou.
Upcoming Canadian Tour Dates
Sept 10 – Sarnia, ON @ Trinity Lounge
Sept 23 – Montreal, QC - Pop Montreal @ O Patro Vys
Sept 27 – St. Catharines, ON @ L3 Nightclub
Sept 28 – Hamilton, ON @ This Ain't Hollywood
Sept 30 – Toronto, ON @ Trinity St. Paul's United Church
Oct 1 – Guelph, ON @ Dublin Street United Church
Oct 5 – Kingston, ON @ The Mansion
Oct 6 – Ottawa, ON @ Ritual
Oct 13 – London, ON @ The Aeolian Hall
Oct 14 – Peterborough, ON @ Market Hall
Oct 21 – Charlottetown, PE @ Baba's
Oct 22 – Fredericton, NB @ The Capital
More dates to be announced soon.
http://ohbijou.com/
http://www.myspace.com/ohbijou
http://lastgangentertainment.com/