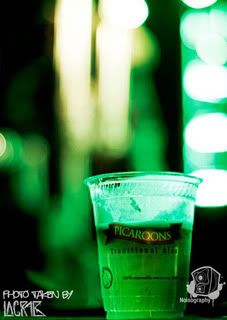 by Mario Gautreau & Jonah Hache
This summer, the east coast is hosting a number of excellent outdoor independent music and arts festivals. Each year the venues,coordination and line ups seem to improve. Held from June 28 until July 2, the
FeelsGood FollyFest
did not disappoint in showing the Maritimes a wonderful festival -- helped by the marvellous weather -- filled with great people, music, local food and beer as well as an arts and crafts market and diverse workshops from the Saint John Free School, including yoga, sprouting, fairyhouse building and poi.
Organized by Fredericton art and music community FeelsGood, in cooperation with
Picaroons
, FollyFest celebrated its third year, growing stealthily and nailing down all that makes these things so darn enjoyable. This years line up included a stellar cast of over 50 bands, including
Old Man Luedecke
(who was playing his last show before welcoming twins),
Hey Ocean, That 1 Guy, Tupperware Remix Party, Three sheet, Force Fields
, and a ton of others that all played music that just, well, feels good. The order of bands were also appropriately scheduled to ensure people can both party hard and get some sleep without having to worry about missing their favourite band; the two evenings of the three-days-two-nights festival ended around 2:30am, and music got rolling again around 10am. It also ensured the "partyists" could keep enjoying one another after the good tunes are done.
The grounds had a camping zone conveniently placed near the parking/load-in area, as well as a quiet zone on the other side of the grounds with a separate entrance. The FeelsGood main stage was a great size and the sound was superb. The grounds -- an old fairgrounds with bleachers littered with hammocks -- made for a great site The two side stages also had a fun character to each of them and were interestingly placed on the grounds, all close together but not interfering with each other. The Yipee stage housed a lot of great indie bands from the Maritimes, while the Courthouse stage was actually the front entryway of an old court with giant pillars housed some of the more mellow and solo acts. Every stage proved to be timely and consistent to the schedule and the line-ups for each stage were filled with special treats. There was also a huge river to swim in a hop and a skip away.
The eats were good too. Healthy and greasy food to please all with veggie and meat alternatives - some of which made with materials from local distributors. Even the ice cream bars were homemade. There was also a nice art market filled with vendors, artists, designers, band merchandise, local literature, pottery, on-site glass blowing and screen printing, and a great selection of organic teas.
While I wasn't there for the entire weekend, I did manage to catch quite a few acts that were on my to-do list. We got to the site on Friday to the sounds of Jonah Haché himself having a good ol' time on the Courthouse stage. Jonah being on stage is synonymous with banter. Lots of it. His set saw him do a ton of songs that I've never heard him play, with a mix of acoustic guitar, keyboard and beats. Vocals were going through an effects processor and a giant moustache crossed the stage. It was entertainingly catchy and a good way to launch my stay at the festival. While pitching my tent, Ben Caplan & The Casual Smokers were growling away at the FeelsGood stage. A unique act in itself, I hope Mr. Caplan and his crew keep the shows coming.
At the Yippee stage, The Olympic Symphonium played a marvellous set of songs. The class, skill and songwriting from these guys (who are reputed musicians with fantastic resumes to boot) never ceases to amaze. The guys were in several of the bands that performed at the festival. Old Man Luedecke is a great performer (as anyone who has seen him can attest) and his afternoon set on the FeelsGood stage was a great reminder to his skills as a modern day storyteller.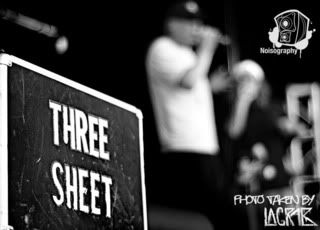 The highlight of Friday night, however, was Tupperware Remix Party. While I'll attest that That One Guy is definitely remarkable, innovative, interesting, catchy and eye-popping, TWRP have an energy that is unmatched. The costumes, the jumping, the banter, the soundclips, their running around the site everywhere prior to their set (including a hang-out stint in one of the mangers) show that these guys put on one heck of a catchy show.
Sad I missed Force Fields....but excited to have them at Messtival this year!
If you can fit it into your schedule next year, you will not regret attending Follyfest. Just sayin'.
If you attend many events and are interested in contributing to Noisography via photography, reviews, or video, touch base with us at noisography@gmail.com