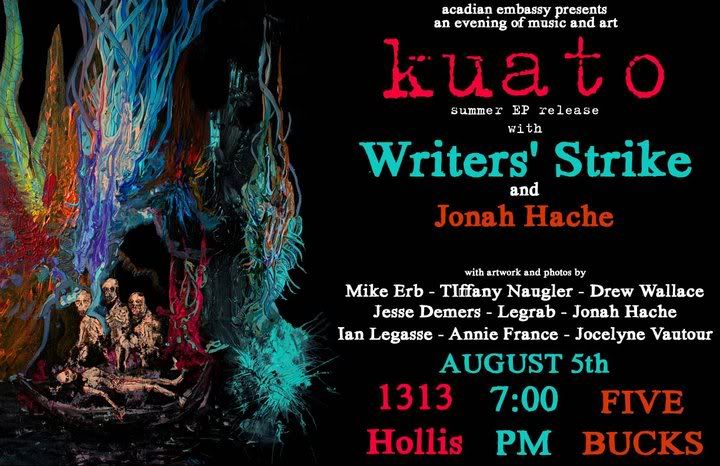 By Dan Nightingale
Kuato
's
Summer EP
starts off with their trademark dramatic guitar chords before a power beat comes in and lifts the track up, almost reminiscent of BSS or the Arcade Fire. So called "post-rock" bands have always relied on the most melancholy of melodies, so it's nice to hear a band branching out.
"Iraqnaphobia"
still mixes sounds and style from across the board, with the looping drum beat holding it all together. A climatic chorus carries to song until the crushingly heavy ending crashes out in waves and moves straight into
"Afganistandard."
The song starts on the same note, and the tones and feeling are predominantly the same with another rolling jungle drum beat taking over the crunchy guitars and soaring melodies. To be honest the two tracks run together somewhat, though there are different themes and progressions on this track that call to mind later period Mogwai. It still delivers on the giant, punishing sound that Kuato is known for, with plenty of tight rhythms and catchy guitar work.
The final track on the EP,
"Frances The Mutant,"
moves further toward the trademark Summer EP sound with more pounding drums, grinding bass, and nice fractal guitar melodies. The track grows in intensity towards the halfway mark and the band just keeps piling on more layers, with crash symbols and dirtier and dirtier bass, while still finding room for the clean guitar melodies that keep the track from getting lost in mud.
The production and recording are perfectly suited as always to capturing the variety of sounds the band evokes, but it would be interesting to hear some more variation, even if it did bow to cliché – strings, effected vocals, synths? Over all the band captures the perfect epic summer vibe - I picture the finale of "
Frances The Mutant"
playing while soaring away on a helicopter in the sunset from a tropical island that's, well, exploding.
Get a free copy of Summer EP NOW
when you purchase a ticket to
An Evening of
Music and Art - Summer EP Release Show,
which are available at the following locations:
Advanced Tickets are available at:
Obsolete Records
(2454 Agricola St)
the
Acadian Embassy
(3356 Micmac St)
or email
acadianembassy@gmail.com
for ticket delivery in HRM
___________________
Come celebrate the release of Kuato's Summer EP with an evening of Music and Art at 1313 Hollis St. on August 5th 2011 with music provided by :
Kuato
(
http://www.kuatoband.com/
)
There will be 50 physical Kuato EP's for sale at the show and if you buy one you'll get a download link to an extra unreleased song called Baroque Obama
Writers' Strike
(
http://writersstrike.bandc​amp.com/
)
Jonah Hache
(
http://www.feelsgood.ca/pr​ofile/JonahHache
)
Art and Photos by:
Mike Erb / Tiffany Naugler / Drew Wallace / Jesse Demers / Legrab / Jonah Hache / Legasee / Annie France / Jocelyne Vautour / Catherine Arseneault
$5 - Doors open at 7pm
We want you to keep in mind that this show will be over before the Dog Day show at The Seahorse or the Cursed Arrows show at Gus' start. So come down and party before heading out for the rest of the night!