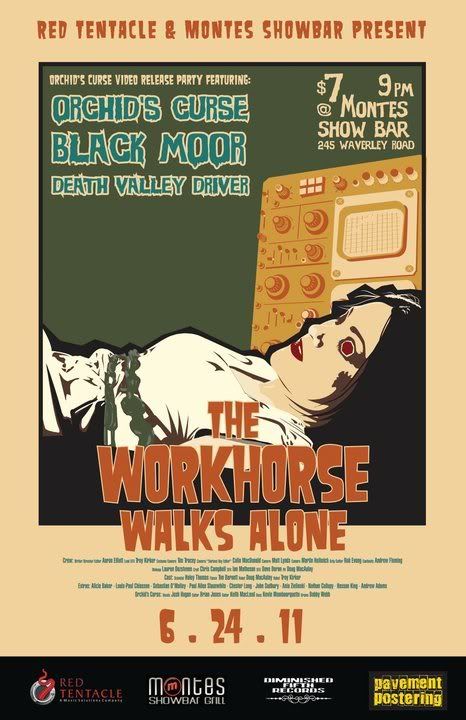 Red Tentacle & Montes Show bar present:
The Official video release of '
The Workhorse Walks Alone'
featuring:
ORCHID'S CURSE, BLACK MOOR & DEATH VALLEY DRIVER
Friday, June 24th @ Montes Show Bar
Doors: 9pm / Cover: $7
________________________
In addition to premiering the killer (I do mean killer) 5-minute video for 'The Workhorse Walks Alone', as a special treat we will also be revealing a lead up video for the instrumental track 'It Was the Darkest Day We'd Never See'.
If you like old school horror, zombies, giant robots, blood, scientists, power tools and heavy metal the you will enjoy this creation!
________________________
LINKS:
________________________
That's right! Noisography & Red Tentacle are giving you
TWO
chances to
win tickets
to the Orchid's Curse,
"The Workhorse Walks Alone"
Video Release Party on Friday, June 24 at 9:00pm @ Montes Bar & Grill.
All you have to do is send us an email with the subject line
The Workhorse Walks Alone CONTEST!
along with your name.
On Monday night (June 6th 2011) we will draw one winner, who will win a
double pass
to the show, which is good for the winner + a friend!
We'll be drawing for the second double pass the following Monday (June 13th 2011) so keep your eyes peeled and ready to enter!!
ENTER NOW!!!

send us an email with the subject line The Workhorse Walks Alone CONTEST! along with your name to:
noisography@gmail.com