Show Overview by Isaac Thompson
Photos by Gilles LaChance
It was only released a few days ago, but
Orchid's Curse
's new video for
The Workhorse Walks Alone
(taken from their damn fine sophomore album Voices: The Tales of Broken Men) already has the local metal community buzzing with excitement. And rightly so, the video is fucking killer.
First of all, there are zombies. And these aren't the retarded, new-age Hollywood running zombies either. The Workhorse video feels more inspired by the Italian zombie flicks of the 70s. It particularly conjures the essence of the great Lucio Fulci (a master of gritty grindhouse ghouls and eye trauma). Also there is a robot. It's one of those 50s drive-in, sci-fi robots too - the big cumbersome kind with accordion arms, a circuit board chest and silver hockey glove hands.
The video follows a loose narrative that is interspersed with footage of the band rocking the fuck out in some kind of warehouse. The narrative tells an interesting and pretty intricate story that I won't ruin for you here but I will say it's gory as hell and heavily soaked in all things metal.
The band threw a release party on Saturday night at Monty's Show Bar & Grill with help from
Black Moor
and
Death Valley Driver
.
Death Valley Driver
opened the night. These guys reminded me a lot of Pantera. The grooves, the riffs the pounding beats and gravelly growls; these guys could have been a Pantera cover band. They played well (their guitar player was exceptional) and did a more than decent cover of Sepultura's Roots, Bloody Roots. Although it was no fault of their own, DVD's set was marred by an awful audio-mix. The vocals were cranked way up, drowning out almost everything else. Luckily the mix ended up sounding a lot better as the night went on.
Black Moor
, who have made a name for themselves with their balls-out brand of retro-thrash metal, kicked all kinds of ass. These guys have a sound that sets them apart from the rest of the local metal scene. Their songs references early Metallica, Iron Maiden, Megadeth, Dio, Slayer, Quiet Riot and Judas Priest. They expand on the sound metal once had when it was a mighty king in a dark land of spirits and devils. We're talking duelling solos, soaring hooks, lyrics about monsters and shredding that will rip the skin off your face.
I've seen these guys a few times before and this was by far the best. The lead guitarist is a monster. He's double finger tapping and shredding all over the place like a young Eddie Van Rhoads. These guys played like their manhood depended on it and rocked the fuck out of everyone.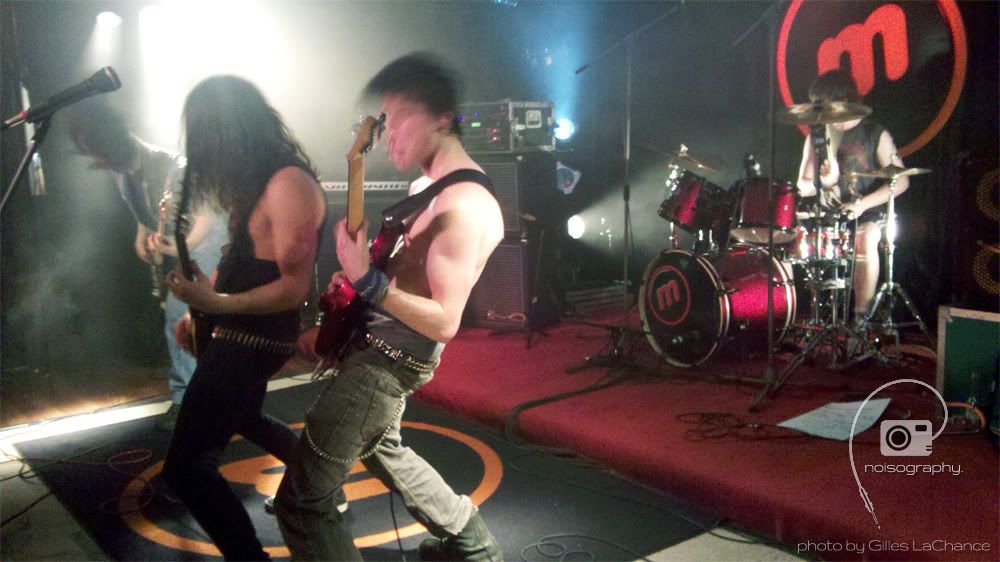 After we were treated to the world premiere of the Workhorse video,
Orchid's Curse
appeared in the flesh and played a short set of brutal mayhem. As always, they fucked shit up with a power and intensity that is unrivaled when it comes to local metal. The band was obviously in a celebratory mood and their joy (and one might assume drunkenness?) helped make the show something special. The set was a unique mixture of ferocity and euphoria. When the band played Workhorse, they invited the audience onstage to crowd around the microphones and shout along to the refrain: Is this what I have chosen or is this what has been chosen for me? (One of my favourite lines in any song ever)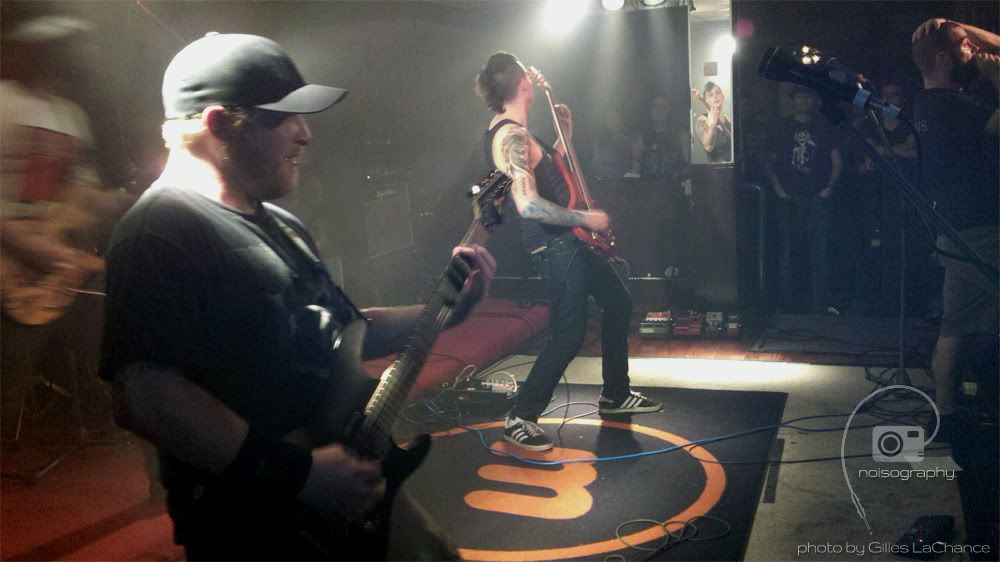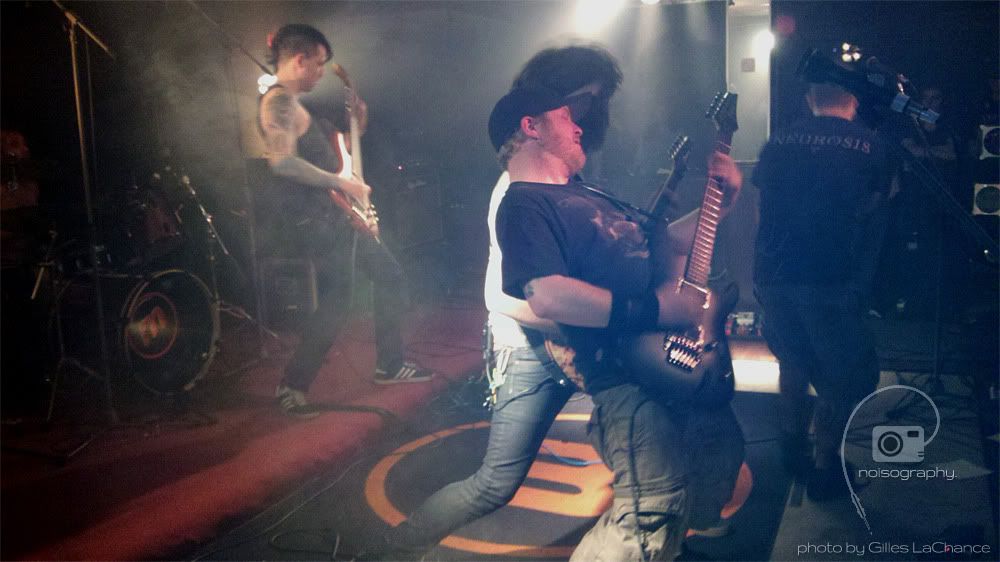 Orchid's Curse are a band who've created an original sound through hard work and built a loyal following through
positive word of mouth and tireless promotion. They've earned their current place as one Halifax's top bands and the excellent new video should help secure their popularity and earn them a few extra fans. To quote one of the commentators on the Youtube page for the video, "Fuck. Yes. If you don't like this you're probably a pussy".