Vérité Recording Artists From Toronto To Return Home For Open Roof Festival
On August 4th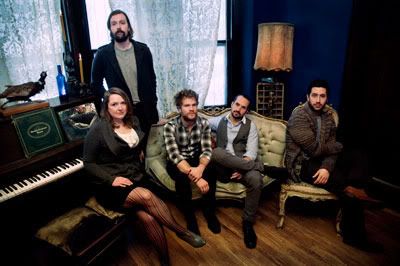 The "lumberjackily-attractive"
Wilderness of Manitoba
, a phrase Brooklyn Vegan used to describe the band in a review of a recent New York show, released their album, When You Left The Fire, in the U.S. on May 10th. While dodging tornadoes in Nashville and having their driver's side mirror sliced off by a passing tractor trailer truck in New Jersey, they have been touring with Cloud Cult and Other Lives south of the border. In July, they return for dates with Rasputina and, in August, they hit the west coast for the first time opening for Aimee Mann and more shows with Cloud Cult. In between all this American activity, the band will be performing at the Open Roof Festival in Toronto on August 4th and at the Raw Sugar Café in Ottawa on August 5th.

The Wilderness Of Manitoba - Orono Park from tinyOGRE on Vimeo.
Also newly released is the Wilderness of Manitoba's debut music video for Orono Park. It was shot in Los Angeles and directed by David Altobelli (Cults/School of Seven Bells). This coincides with Orono Park having just been Track of the Week at all Starbucks outlets across Canada.
Living and working under one roof may be the binding factor and catalyst for the Toronto-based chamber folk band's ability to create such intense music that simultaneously sounds so effortless. One of the Wilderness of Manitoba's most distinctive qualities is its capacity to use their vocals as instruments while the male/female interplay sets them further apart from their peers. Their haunting four part harmonies glide alongside cello, banjo, guitar and other textures to tell the various songwriters' timeless stories. "This record is a time capsule," says vocalist/multi-instrumentalist Will Whitwham. "The songs are fun to play because they bring you back to a specific time and place. I think true art captures or relays emotions and, if we are doing that, then I'm satisfied."
Watch Paste Magazine Session:
http://www.pastemagazine.com/blogs/av/2011/06/live-from-paste-the-wilderness-of-manitoba.html
The Wilderness Of Manitoba Tour Dates
July 16 – New Haven (CT), Rudy's
July 17 – Teaneck (NJ), Mexicali Live *
July 19 – Pittsburg (PA), Mr. Small's *
July 20 – Newport (KY), Southgate House *
July 21 – St. Louis (MO), Old Rock House *
July 22 – Kansas City (MO), Beaumont Club *
July 25 – Denver (CO), Bluebird Theatre *
August 4 – Toronto (ON), Open Roof Festival
August 5 – Ottawa (ON), Raw Sugar Café
August 12 – San Juan Capistrano (CA), the Coach House ^
August 14 – Solana Beach (CA), Belly Up Tavern ^
August 19 – Grass Valley (CA), Northern California Center for the Arts ^
August 21 – Philadelphia (PA), Philadelphia Folk Festival
August 25 – Seattle (WA), the Neptune Theatre +
August 26 – Portland (OR), the Mission Theatre +
* with Rasputina
^ with Aimee Mann
+ with Cloud Cult
More Info:
http://www.myspace.com/thewildernessofmanitoba