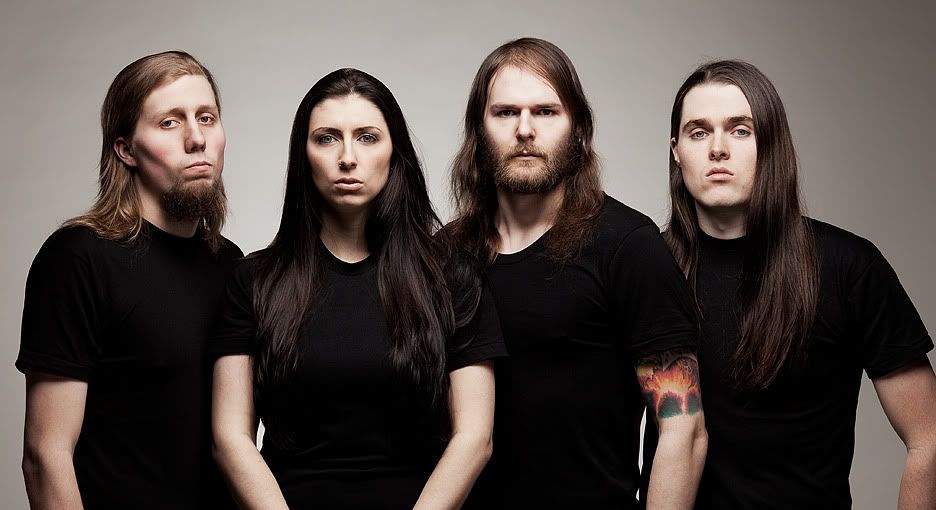 LIVE - June 23, 2011 – Halifax, NS @ Gus's Pub
This Spring and Summer, in conjunction with the the release of their highly anticipated second album, 'Demons Of The AstroWaste', Vancouver BC's power/melodic death metal champions UNLEASH THE ARCHERS are embarking on a massive tour of Canada, aptly titled 'Tour Through The AstroWaste'.
The trek will carry the band from coast to coast, delivering a fresh dose of their compelling live show to Canada's diverse metal masses, and proving, as they have while sharing the stage with the likes of 3 Inches Of Blood, Blackguard and Augury, that Unleash The Archers are among the country's new elite metal acts.
"We can't wait to play our new material all across Canada!", exclaims guitarist/vocalist Brayden Dyczkowski. "This is the biggest tour UTA has ever done and we've got a ton of amazing shows lined up."
As a taste of what's coming, fans can check out these songs from the band's new album:
Join the discussion via the band's tour facebook event page here:
http://www.facebook.com/event.php?eid=215442705149347
May 14, 2011 – Abbotsford, BC – Eagle's Hall *
May 19, 2011 – Nanaimo, BC – Headliners ** w/Order of Chaos, Ravensun, Pentacaust
May 20, 2011 – Victoria, BC – Lucky Bar ** w/Order of Chaos, Abriosis
May 21, 2011 – Victoria, BC - Victoria Legion *** w/Order of Chaos
May 22, 2011 – Vancouver, BC – The Astoria ** w/Order of Chaos, Abriosis, Hallows Die
May 26, 2011 – Jasper, AB - The Horseshoe Club w/Order of Chaos
May 27, 2011 – Calgary, AB - The Distillery w/Order of Chaos
May 28, 2011 – Edmonton, AB - The Starlite Room w/Order of Chaos, Shadowblade
May 30, 2011 - Lethbridge, AB – The Stone
June 1, 2011 – Winnipeg, MB - The Royal Albert Arms w/Laika, Alphakill and Pathogenic
June 3, 2011 – Sioux Lookout, ON – Sioux Lookout Youth Center *
June 4, 2011 - Sault Ste. Marie, ON - The Roosevelt Hotel *
June 7, 2011 - Hamilton, ON - The Waltz Live Music Hall
June 9, 2011 – Kitchener, ON – The Chainsaw *
June 10, 2011 – Windsor, ON - The Coach and Horses
June 13, 2011 – Guelph, ON - Club Vinyl
June 14, 2011 – Oshawa, ON – The Atria w/Bolero
June 15, 2011 - Ottawa, ON – Café Dekcuf w/Endemise, Derelict
June 16, 2011 – Toronto, ON – Annex Wreckroom w/KATAKLYSM
June 17, 2011 – Montreal, QC – Katacombes w/Derelict
June 18, 2011 – Sherbrooke, QC - Bar Le Saloon w/Derelict
June 20, 2011 - Fredericton, NB - The Capital
June 21, 2011 – Moncton, NB - TBA
June 23, 2011 – Halifax, NS – Gus's Pub
June 24, 2011 – Sydney, NS – TBA
June 25, 2011 – Charlottetown, PEI – The Refinery
June 28, 2011 - Quebec City, QC – Bar L'Octobre
June 30, 2011 – Sudbury, ON – Jubilee Hall * w/ Beyond Within, TheKillingField, Like Animals
July 1, 2011 - North Bay, ON – The Granite Room * w/Hallows Die, TheKillingField
July 2, 2011 – Cochrane, ON - Hades Farm *
July 3, 2011 – Thunder Bay, ON - Jack's
July 5, 2011 – Brandon, MB - The North Hill Inn
July 6, 2011 – Saskatoon, SK – Amigos w/Lavagoat, Desecrate Scripture
July 7, 2011 – Lloydminster, AB - Phunkin Gruuve
July 8, 2011 – Red Deer, AB - O'Mally's
July 10, 2011 – Mackenzie, BC – The Curling Rink *
July 11, 2011 - Prince George, BC – Third *
July 12, 2011 – Burns Lake, BC – TBA *
July 13, 2011 - Williams Lake, BC - The Limelight
July 15, 2011 - Grand Forks, BC - GF Hotel
July 16, 2011 – Kelowna, BC - The Knights Of Columbus Hall
July 17, 2011 – Port Coquitlam, BC – TBA *
*all-ages
**CD Release Show
MORE Unleash the Archers:
http://www.facebook.com/UnleashTheArchers
http://www.myspace.com/unleashthearchers
http://unleashthearchers.com/
http://www.last.fm/music/Unleash+The+Archers
http://unleashthearchers.bandcamp.com/
http://www.reverbnation.com/unleashthearchers