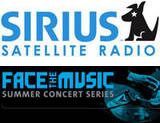 Stellar lineup includes
SAM ROBERTS BAND
•
K-OS • THE TREWS • BROKEN SOCIAL SCENE • BEDOUIN SOUNDCLASH • MARIE-MAI • ALFA ROCOCO • CITY AND COLOUR
Communities compete online for the chance to win one of four exclusive free concert experiences.
Play online at:
www.facebook.com/siriuscanada
SIRIUS Canada today announced the launch of the FACE THE MUSIC SUMMER CONCERT SERIES, a unique online music challenge offering Canadians an opportunity to compete and win an exclusive free concert experience for their hometown.
The challenge is a fast and furious test of musical knowledge based on SIRIUS' commercial-free music playlist offering everything from classic rock and hip hop to opera and country. The game begins when a song clip plays and points are awarded based on the speed in which a correct answer is provided. Players are assigned to a specific region based on their location and compete for their town or city to play host to an exclusive free concert experience. When the contest closes on July 6 at 5 p.m. ET, the scores will be tallied and the communities announced on July 7.
This year, four exclusive free concert experiences are up for grabs as communities in western region; central region; Quebec; and eastern region compete for the FACE THE MUSIC title. When the contest ends on July 6 at 5 p.m. ET, the community with the highest average score in each region will win the designated concert.
The four exclusive free concert experiences are:
Western Region:
Sam Roberts Band and The Trews
Central Region:
Broken Social Scene and Bedouin Soundclash
Quebec:
Marie-Mai and Alfa Rococo
Eastern Region:
City And Colour along with K-OS
"We're very excited to launch an online challenge that encourages community participation and sparks a friendly rivalry to determine the four hometowns in Canada that will win an incredible Canadian live music experience," said Andreanne Sasseville, Director of Canadian Content Development and Industry Relations for SIRIUS Canada. "SIRIUS is all about the music and we're so thrilled about the artists that have signed on to be a part of this new series. The response has been overwhelming since the contest went live."
The FACE THE MUSIC challenge has begun and in the first five days since launch there have been more than 15,000 gameplays as Canadians compete to bring a concert to their hometown. Regional leaders are beginning to pull ahead with Yellowknife, YT in the lead for Western Canada, Ancaster, Ontario in the lead for Central, Shawinigan-Sud leading in Quebec and Hampton, New Brunswick leading in Eastern Canada.
To play, visit:
www.facebook.com/siriuscanada
ABOUT THE ARTISTS
Western Region
Sam Roberts Band
is getting close to its 10th anniversary as a band! The 2002 breakthrough EP, The Inhuman Condition, shot Roberts onto the musical scene with the singles Don't Walk Away Eileen, Brother Down, and Where Have All The Good People Gone? Nearly ten years later, they've just released their fourth studio album, Collider, in May of 2011.www.samrobertsband.com
The Trews
perked up the ears of listeners back in 2003 when Not Ready to Go first burst onto the radio airwaves. Keeping the momentum up the band proved their worth with multiple hit singles and an incomparable live show. When downtime hit at the end of touring in 2009, Tragically Hip bassist Gord Sinclair offered up the Hip's Bathouse Recording Studio where The Trews' latest album, Hope and Ruin, was born. The band came out of the studio feeling rejuvenated and enthused by the new record, and feeling as they did when they released their first. www.thetrewsmusic.com
Central Region
Broken Social Scene
released their fourth full-length album, Forgiveness Rock Record last spring. The album earned the group a spot on the 2010 Polaris Prize short list and five 2011 Juno nominations including Alternative Album of the Year. BSS will be a fixture on the festival scene this summer, with shows at Montreal's Osheaga and M-Fest in Dartmouth, N.S. The band will also be hitting the road in September for a two-week run of U.S. dates with TV On The Radio.www.brokensocialscene.ca
Bedouin Soundclash
burst back onto the scene in 2010 with the release of Light The Horizon. With the addition of longtime Canadian session drummer Sekou Lumumba, the band took on the project with a new outlook, sense of purpose and a batch of songs written in a healthier frame of mind. Placing all of their focus on the album, they stepped out of their comfort zone, recorded it, for the first time, live on the floor, and came out of the studio with an album that is undeniably and unequivocally Bedouin. www.bedouinsoundclash.com
Quebec
Marie-Mai
is considered one of the most significant Quebec artists of the decade. With three platinum albums and the title of Best Female Artist of the Year at the most recent Gala de l'Adisq, it seems that the Canadian pop-rock singer-songwriter and performer can do just about anything. Her third full-length album, Version 3.0 was released back in 2009 and featured her blend of rock, pop, and electronica influences. The first single C'est moi, was a smash hit at radio with the album reaching #1 in sales in Quebec during its first week of release, and #3 in Canada. www.mariemai.com
Alfa Rococo
is a French duo made up of Justine Laberge and David Bussières. Coming together in 2004 when they recorded a song together for fun, the two created a prolific musical bond that led to the release of their debut album,Lever L'Ancre, in 2007. Since that release, the duo's popularity has grown immensely allowing them to perform internationally and at several events and festivals, including the Winter Olympics in Vancouver 2010. In the summer of 2010 the pair stopped touring to begin writing their second album, Chasser Le Malheur, which launched later that year.www.alfarococo.com
Eastern Region
City and Colour
has built a strong following across Canada thanks to the success of his previous two full length albums – 2005's Sometimes and 2008's Bring Me Your Love – and a live CD/DVD combo released between the two. Now with the June 2011 release of his third album, Little Hell, he is ready to take it to a whole other level. Recorded at Catherine North Studios in Hamilton, the eleven hooky heartfelt numbers on Little Hell boast familiarity for City and Colour fans. The album also delves deeper into the folk, blues, and even soul influences that surfaced on its predecessor thanks to the gorgeously-executed instrumentation and honest essence of Dallas Green's voice. www.cityandcolour.ca
K-OS
, born Kevin Brereton, is a genuine neo-crossover rap n' roller. With the release of his fourth album, Yes!, he raises the proverbial bar, starring as equal part fire-spitting MC, crooner and composer. While leaving behind much of the social commentaries present on previous albums, with Yes! he embraced different musical styles with ease, making it one of that year's favorite albums. www.k-osmusic.com
ABOUT SIRIUS CANADA
SIRIUS Satellite Radio Canada, one of Canada's 50 Best Managed Companies, is the country's leading audio entertainment company with more than one million subscribers.
SIRIUS offers 120 channels of commercial-free music, premium sports, news, talk and entertainment programming from studios in Vancouver, Toronto, Montreal and New York. SIRIUS offers listeners unparalleled coast-to-coast signal coverage and digital quality sound broadcast from four high-orbit satellites.
SIRIUS is the Official Satellite Radio Partner of the CFL, NFL and NASCAR and broadcasts live play-by-play games of the CFL and NFL games. SIRIUS is also the exclusive satellite radio home of CBC's Hockey Night in Canada Radio. In addition, SIRIUS broadcasts live NASCAR races, Barclays English Premier League and UEFA Champions League soccer.
SIRIUS products for the car, truck, home, RV and boat are available in more than 3,500 retail locations, including Best Buy, Canadian Tire, Centre Hi-Fi, Costco, Dumoulin, Future Shop, Home Hardware, London Drugs, The Source, Visions, Wal-Mart and 2001 Audio Video.
SIRIUS Canada's automotive partners include Aston Martin, Audi, Bentley, BMW, Chrysler, Dodge, Ford, Jaguar, Jeep, Land Rover, Lincoln, Mazda, Mercedes Benz, MINI, Mitsubishi, Pana-Pacific, Subaru, Volkswagen, Volvo and the Canadian Automobile Association (CAA). SIRIUS automotive partners make up nearly 60 per cent of light vehicle sales in Canada.
All SIRIUS programming is available for a monthly subscription fee of only $14.99. To listen to SIRIUS live, or to purchase a SIRIUS radio and subscription visit www.sirius.ca.