Quiet Parade
are taking their slowcoustic pop rock to the road this summer, performing select dates throughout the Maritimes in support of
The Details
(Winnipeg, MB)
Make sure to check them out
this Friday
June 24th at
Gus' Pub
!!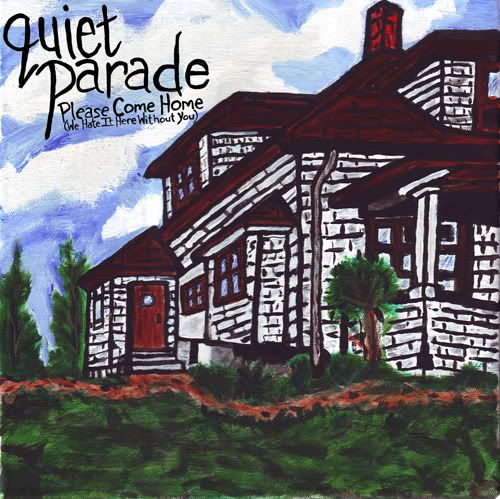 To stream, download, and share Quiet Parade's latest album,
Please Come Home (We Hate It Here Without You)
, check out
http://quietparade.bandcamp.com
To purchase the album on twelve inch vinyl, visit the
Acadian Embassy store
.
Bandcamp:
http://quietparade.bandcamp.com/
Facebook:
https://www.facebook.com/pages/Quiet-Parade/7058936451
Twitter:
http://twitter.com/#!/QuietParade
The Details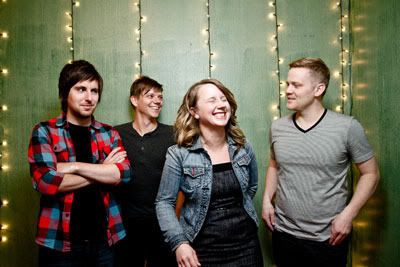 Every band who plays SXSW hopes they'll end the week with a lucrative record deal, or at least the prospect of one. For Winnipeg foursome The Details, that almost happened. "You know the evil manager in the movie the Runaways?" asks Jon Plett, the band's singer and guitarist. "We met him in an elevator, gave him a press kit and then he wouldn't stop calling."
That guy was none other than Kim Fowley, a legendary record producer and songwriter who's worked with The Runaways, Kiss, Alice Cooper and more. They didn't know who the towering, white-haired 60-something was at first, but Fowley, after listing to their first record — Draw a Distance, Draw a Border — knew exactly who the band was.
The Details - Weightless in the Dark by killbeatmusic
One day, as Plett was working on his farm (that's right, he's a farmer), he got a call. "It was Fowley," he says. "We talked for an hour, it was so surreal." The producer said he played the band's music for people in L.A. and there was a lot of interest. He wanted more tunes and to tried to fly the group out to California.
The band was at a crossroads — do they go and potentially give up a piece of the band to the music industry machine? Or stay home and create a new record on their own terms. They chose the latter.
It turned out to be the right move, especially since the band found two equally adept producers in Brandon Reid, The National's engineer and right hand man, and Stephen Carroll, the guitarist of seminal Winnipeg indie act The Weakerthans.
Reid and Carroll don't produce just any act that comes their way. There are two reasons they spent 12 long days working and recording The Details: their huge potential and the fact that they're not afraid of hard work. A lot of bands write some songs in a few weeks then release a record, only to regret the final product. The Details took three years to write the songs on their sophomore effort, Lost Art, and spent a year perfecting them, throwing out songs that didn't work or redoing tunes that needed an extra push. "We'd play a song a certain way for three months and then flip it on its head," says Sean Vidal, the group's other guitarist. "It took us three years to refine the songs the way we wanted them."
That painstaking work was a good thing. It resulted in one of the most exciting records to come out of Winnipeg since The Weakerthans' Left and Leaving. The combination of Reid and Carroll couldn't have been more appropriate — Lost Art channels the same type of pull-at-the-heartstrings indie rock as The Weakerthans and The National's rich folk rock feel. But it's also got punch. "Vulture Mechanics" kicks off with the loud slap of Shaun Gibson's snare, eventually launching into a soaring chorus backed by Keli Martin's deep bass and Vidal's bright fuzzy riffs.
But it's "Weightless in the Dark" that really shows The Details' depth. Lyrically, it's on par with any John K. Samson tune, while the fluid, pop folk instrumentation makes this one of those tracks that you can play on a long road trip or after a night of too much drinking at the bar.
Each song has so many moving parts that you won't get tired of listening to the music multiple times. Yet, it's simple enough that you can get it on the first try. And that was intentional. "We were trying to stay away from hitting the audience over the head with dynamic changes like we did with the first record," says Sean. "We stayed away from throwing 10 super distorted guitars in the mix."
While the band worked at getting these songs right, it was Reid, and his experience (and stories) with The National, who put the finishing touches on this already solid disc. "He has such an intimate knowledge of indie rock," says Jon. "He knew what we could and couldn't do. Plus, he's a hard worker — this was a labour intensive process."
In the end, listeners get one of the most cohesive, focused and creative indie pop albums to come out this year. And, once Kim Fowley hears it, there's no doubt he'll be on the next plane to Winnipeg.
Website:
http://www.thedetails.ca/
Facebook:
https://www.facebook.com/thedetails
Twitter:
http://twitter.com/#!/the_details
Youtube:
http://www.youtube.com/user/thedetailsmusic