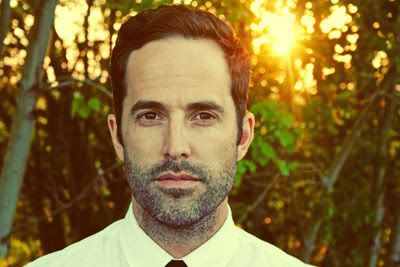 Shameless Recording Artist From Edmonton and One Half of The Wheat Pool's Songwriting Brothers Steps Out With Solo LP
If
The Wheat Pool
is the sound of four guys busting their ass, then Mike Angus' solo album
Hymns
could be described as the hum of the amps once the band's left the stage. The void of an emptying venue as the room goes dark. In between the music and silence, there's an echo. That's the moment Angus chose to write Hymns from.
The songs on Hymns were written in Italy, where Angus spent two weeks in a Tuscan farmhouse working on new material. What emerged were sparse, immediate songs reflective of his headspace at the time.
"I think the strength of The Wheat Pool is the obvious collaborative energy of four guys writing together, and that's exciting," Angus explains. "What was exciting about these songs was knowing they'd end up on a solo record, so I could focus on my strengths and what I bring to the band, all the while having the freedom to flesh the songs out exactly how I was hearing them in my head."
The songs range from straight-ahead pop gems - like the head-bobbing lead-off single "Swallow It Whole" - to lush, spacious acoustic anthems like "Oh Rodeo!" and "Cold, Cold Ground." There's even moments of experimentation on Hymns, like the digital drive of "Scaffold Christ," a song Angus challenged himself to write without the use of any acoustic instruments at all.
"I challenged myself the whole time to write in ways I never had before, to break habits," he points out, "like trying open tunings, or writing songs with only one verse and one chorus—no filler. My rule was, 'if it doesn't need to be there, leave it out.' With a song like 'Scaffold Christ,' I wanted to challenge myself to write without a guitar in my hands—to see how my impulses for songwriting would translate on a new instrument like a keyboard or drum loop machine on my laptop."
The title Hymns emerged as a theme during the songwriting process for Angus, who came from a religious upbringing. "I realized how the hymns I was raised with—and still love—were my first musical education, and still influence the way I write," he reveals cautiously. "At the same time, there was this delicious irony at being in Italy, being confronted with all this beautiful religious art everywhere, and realizing how I'd moved on from that faith I was raised with."
While these heavier themes weave their way through songs like "Scaffold Christ" and the album's closer "What Does It Mean?", they never outweigh the overall feel of the album. There's a spontaneity and playfulness in the quiet, intimate moments, juxtaposed in expansive, cavernous textures and atmospheres - a surprising and rewarding tangent from the Wheat Pool's amped-up Canadiana.
"With The Wheat Pool, we know how to get loud," Angus grins. "On Hymns, I really wanted to explore how quiet I could get—to see how much space I could create and still have a song that might attract new fans. And maybe surprise some old ones."
Check out the first single from Hymns on CBC Radio 3
http://radio3.cbc.ca/#/bands/Mike-Angus