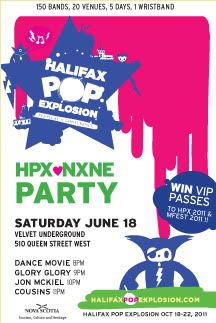 Canada's leading new music festival will be bringing four up and coming East Coast acts to tear it up in Toronto showcasing 4 artists from our local scene that will blow your minds.
8pm –
Dance Movie
:
dancemovie.bandcamp.com
9pm –
Glory Glory
:
gloryglorymanunited.bandcamp.com
10pm –
Jon McKiel
:
jonmckiel.bandcamp.com
11pm –
Cousins
:
cousinscousins.bandcamp.com
Saturday June 18th
The Velvet Underground
510 Queen Street West
Toronto, ON
You can also win VIP Passes to M Fest 2011 and HPX 2011!
This show is open to the public and NXNE pass/wristband holders and is an official NXNE 2011 showcase.
Tell us you're coming
here
.
Check out
NXNE
here.
Follow Jonny and Josh's hijinx at NXNE on our Twitter feed
@Halifaxpopx
This showcase wouldn't be possible without the support of the Nova Scotia Department of Communities, Culture and Heritage and we acknowledge their willingness to support the work of Nova Scotian artists and musicians. Thanks.
List of NS bands playing at NXNE
Dance Movie– June 18th, Velvet Underground, HPX Showcase
Glory Glory- June 18th, Velvet Underground, HPX Showcase
Cousins- June 18th, Velvet Underground, HPX Showcase
John McKiel- June 18th, Velvet Underground, HPX Showcase
Duzheknew– June 18th, The Great Hall
Ghettosocks– June 17th, Crawford
Gloryhound– June 16th, Bovine Sex Club
Fuck Montreal– June 17th, El Mocambo (Main Floor)
Jenn Grant– June 18th, the Legendary Horseshoe Tavern
Jon Bryant– June 19th, Free Times Cafe
Kelly Sloan– June 16th, Czehoski
Rich Aucoin– June 16th, The Garrison
Ruth Minnikin– June 16th, Dakota Tavern