Review by Kathleen Leaman
Photos & Video by Tiffany Naugler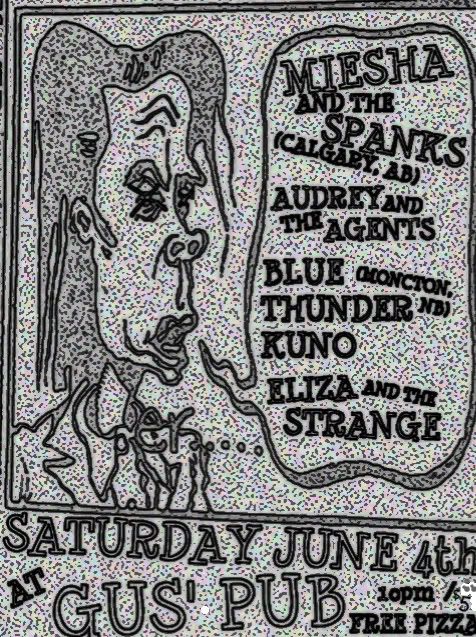 Rock'N'Roll Girl Party w/Miesha&Spanks/Audrey&Agents/BTK/Eliza&Strange
"Girls Girls Girls. Rock 'n' Roll. Pizza.
Sounds like a hell of a party to me.
Eliza and the Strange are playing their very first show! Listen to their single "I'm Not a Machine" on bandcamp and realize why they're your new favourite band."
http://www.elizaandthestrange.com/
http://elizaandthestrange.bandcamp.com/
Gus' Pub. June 4th. 10PM. $5.
The stage at Gus' Pub has been graced with many testosterone laced acts, making June 3rd's Saturday line-up including many female fronted acts a desirable ticket, not just for anyone who is into "girl-bands" but for anyone who is into powerful vocals, intricate melodies and bass heavy thrashing.
It is rare to go to a local show and find the opening act to be not only entertaining, but polished, interesting and well, just to simplify- good.
Eliza and the Strange opened their debut performance with what could have been an ode to safer sex with a refrain of "Don't Give Me Your Disease". Eliza White's vocals cut through crowds with a large range - she draped sensually all over her keyboard, with a voice that is at once powerful and nuanced as well as features a lot of what could be called rapturous wailing, punctuated by a bit of growling.
Indeed, at times the thrashing about of both bassist Jake Seaward and Guitarist Alex MacAskill lent the performance a mystical, occult quality. With soulful, blues inflected melodies, dirty garage band drums, bass heavy riffs and a favoring of minor chords, Eliza and the Strange's act has a witchy southern voodoo-esque feeling about it, which is riveting to listen to and watch. This is the sound one would most appreciate while driving under willow trees through a humid Louisiana summer night a la True Blood. Failing that, it makes for a pretty good show at Gus's.
Overall, after playing only a handful of songs for an eager and vocal crowd, one was, to quote Walt Disney of all people, left wanting more. Things can only go up for Eliza and the Strange and I for one, am looking forward to the next conjuring.