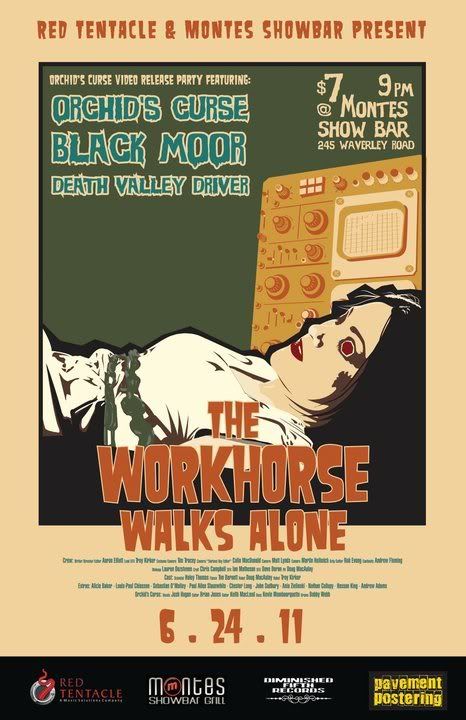 Congrats to
Jim Murray
&
Kyle Smith
winners of double passes to The Workhorse Walks Alone Video Release Party!!
Red Tentacle & Montes Show bar present:
The Official video release of 'The Workhorse Walks Alone' featuring:
ORCHID'S CURSE, BLACK MOOR & DEATH VALLEY DRIVER
Friday, June 24th @ Montes Show Bar | Doors: 9pm / Cover: $7
In the meantime, check out these stills from the video!
In addition to premiering the killer (I do mean killer) 5-minute video for 'The Workhorse Walks Alone' directed by Aaron Elliot as a special treat we will also be revealing a lead up video for the instrumental track 'It Was the Darkest Day We'd Never See'.
If you like old school horror, zombies, giant robots, blood, scientists, power tools and heavy metal the you will enjoy this creation!
____________________________________________________________________
LINKS:
http://orchidscurse.wordpress.com/
http://black-moor.com/
http://myspace.com/deathvalleydriverpei
http://redtentacle.ca/
http://diminishedfifthrecords.com/
http://montes.ca/
____________________________________________________________________
CREDITS:
CREW:
Writer/Director/Editor: Aaron Elliott
Lead SFX: Troy Kirker
Costume/Camera: Tim Tracey
Camera/"Darkest Day Editor": Colin MacDonald
Camera: Matt Lynds
Camera: Martin Hellmich
Grip/Gaffer: Rob Evong
Continuity: Andrew Fleming
Makeup: Lauren Oostveen
Craft: Chris Campbell
SFX: Ian Matheson
SFX: Dave Doran
PA: Doug MacAulay
CAST:
Scientist: Haley Thomas
Fiance: Tim Barnett
Robot: Doug MacAulay
Robot: Troy Kirker
EXTRAS: Andy Adams, Alicia Baker, Louis-Paul Chiasson, Nathan Collupy, Chester Long, Sebastian O'Malley, Paul Allen Slaunwhite, John Sudbury and Ania Zielinski
FB Event:
https://www.facebook.com/event.php?eid=213485155340435