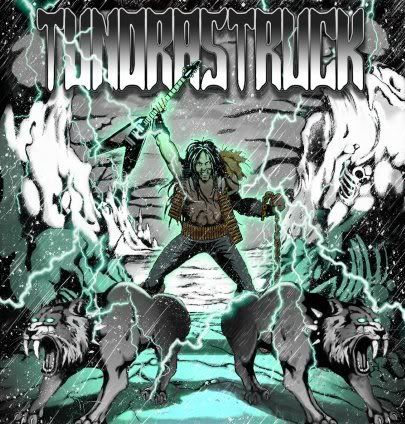 Review by Martin
Tundrastruck
- Various Artists
OH YEAH!!! Some straight up metal this time, we have a 3-way split with 3 Canadian thrash bands:
Metalian
from Montreal, and
Black Moor
and
Sanktuary
from Halifax. I might be a bit biased writing this, as I already LOVE Metalian and Black Moor.... I'm never disappointed at their amazing live shows. Speaking of shows, go get a copy of this and raise your horns at Gus' Pub in Halifax on July 1st, Canada Night for the release show!!!
Metalian
- Airborn Assassins
Not to let us down, Metalian unleashes a blistering thrash attack right out of the gates, fucken yeah! Follow that up with a nice breakdown chorus, and some classic riffing, and that's enought to get me hooked. This track is a great recording, especially the amazing vocals. Everything about this is good. As a trio they were totally triumphant, and I was really impressed how full a sound they had live. I didn't really miss that second guitar, but addition of another instrument must be nice to fill in parts and can only broaden the possibilities for what they can do musically. I want more of this band! Oh yeah, Metalian is god. Listen to them.
Sanktuary
- Raise the Flag
The one unknown band on the record for me, I was quite impressed by these guys, and am looking forward to hearing more of their songs at the upcoming show. Raise the Flag converted me with it's rhythmically interesting grooves--I like that they don't do everything cliche, and I detect some stonerrock influence here, especially in the outro. Gives your neck a break and shifts gears from headbanging to headbobbing, something i'm all for. Also a wicked guitar solo, and shouted gang vocals, right on boys! The performance is technically great, but this recording didn't have the energy of the other tracks.. . sounds more like the studio experience just wasn't there that day. I'm sure a live setting will show off their power a little more.
Black Moor
- Awaken the Dead
Awaken the Dead is what Black Moor is known for, kick-ass thrash metal! They show off their nice detuned guitar tones and ability to mix different feels and styles. A great epic song, I see this recording as a step along the way for Black Moor: this band is destined for greatness, but there's still progress to be made. Good news is, they're going in the right direction. Drums, especially the bass drum could use a bit of tightening up--It sounds like he never finds that perfect comfortable pocket. That said, he's playing some amazing stuff and you can tell that the band as a whole is pushing the limits of what they can physically do. And personally I find it strange that the lyrics only rhyme sometimes, it's just a little disconcerting when I'm expecting them to and they don't... With the determination and drive these guys have, they're certain only to get better. I feel kinda bad saying a few negative things about Black Moor because I'm a 100% fan, but I see critical feedback as a way to help them improve.. .I hope they take it that way.
Overall, totally AWESOME.... This album leaves me wanting more and it accomplished what every split should do: gave me more from bands I already love, while introducing me to a great new band to check out. Pick this up and help these guys get more recordings out.. . Support your local metalheads!!
OH YEAAAAHHH!
But that's just my opinion....
See y'all at the show!