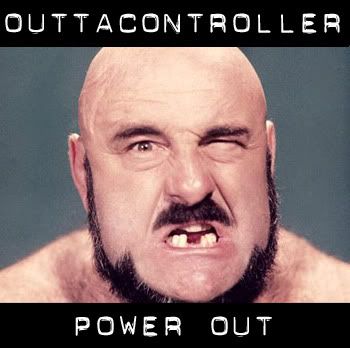 Review by Dan Nightingale
"Power Out"
starts off with power punk jams that keep the energy up throughout the three song album; there's palm mutted guitars a plenty, with fast lead parts and churning punk beat drums. There's not a huge amount of depth to the song writing but the leads and vocals compliment each other nicely, and group vocals blend together nicely.
The EP is literally over before I have a chance to finish the second paragraph of this review – the entire album is shorter than most band's songs. There's no filler here at all, just straight ahead punk rock energy. Crunchy guitar tone with a healthy side of bashed hi-hats make up most of the tone of the songs, but there's still some variety, like in the filtered sounding vocals of "Purple Teeth Bad Attitude."
Now a days it's crazy easy to swing into a small studio, bang out a few quick tunes, and have them uploaded to the internet that night, but I've heard far worse demos than this one – a real analysis of Outtacontroller would be heavily dependant on some live shows and a full length record, and if you want to get those you gotta have a good demo, so kudos on a good first step. Keep an eye out for these guys at your nearest DIY venues, basement shows, and hole in the wall pubs and see what else they bring to the table.
http://outtacontroller.bandcamp.com/