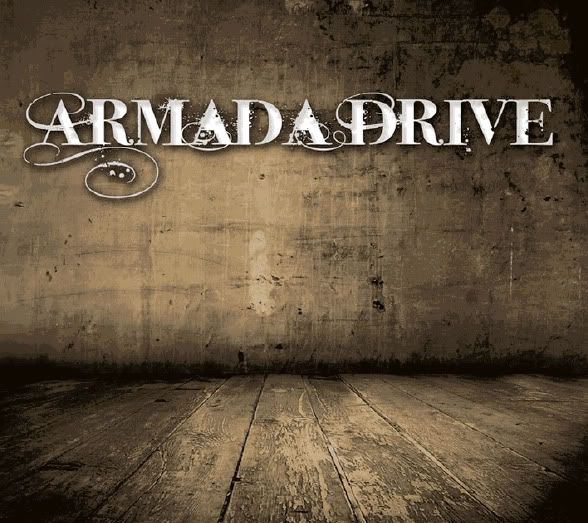 Review by Isaac Thompson
Start to finish,
Armada Drive
's debut album is a heavy slice of grunge pie. In an era where the good hard rock of the 90s has been reduced to bland auto-tuned ballads by Vedder wannabes, Armada Drive is more content to concentrate on the elements that made bands like Alice in Chains and Soundgarden enjoyable than the elements that made them commercially viable.
First off, there is nary a ballad on this disc. Every song comes at you with a monster riff, thunderous drumming and belted vocals. Each song is built around an infectious hook that the band surrounds with power and distortion. It's straight up, anti-irony riff rock.
Rob Gillan's vocals are dead on. He applies a wide array of styles from scream to bellow to croon while maintaining his fantastic pitch and hard rock edge. The guitars - courtesy of Graeme Brown - are huge. They soak the songs with a foreboding density that is intensified by the haunting vocal harmonies of Gillan and Drummer Kyle Smith. The drumming is powerhouse incarnate. Along with the brutal low end of Jonathan Parson's bass, the rhythm section is the final ingredient that sets Armada Drive apart from other east coast bands they might be classified with. They brew a thick stew that does summon a certain amount of nostalgia but doesn't exploit its influences. They haven't taken the sound of the bands they love and polished them until they are watered down and trite, instead they've retained the spirit and run with it. The results are unique and refreshing. I would listen to more rock radio if more radio rock sounded like this.
There really isn't a weak track in the bunch.
My Life, See Me Now
and
Lay Me Down
are my personal favourites -particularly Lay Me Down, an awesome song that would sound right at home on Alice in Chains' self-titled. There's also a fun cover of Ballroom Blitz with Smith on lead vocals. It's a staple of their live show and the recorded version captures the spectacle well. If you're a fan of good hard rock you should definitely pick this record up. The production is crisp and the mix is perfect for the style these guys play. It's a really solid debut effort that gets better with repeated listens.
________________
The album is available for listening on Grooveshark (http://grooveshark.com/#/artist/Armada+Drive/1957150) and can be ordered online at www.indiepool.com/ADCD or you can pick up a copy at any of their upcoming shows!