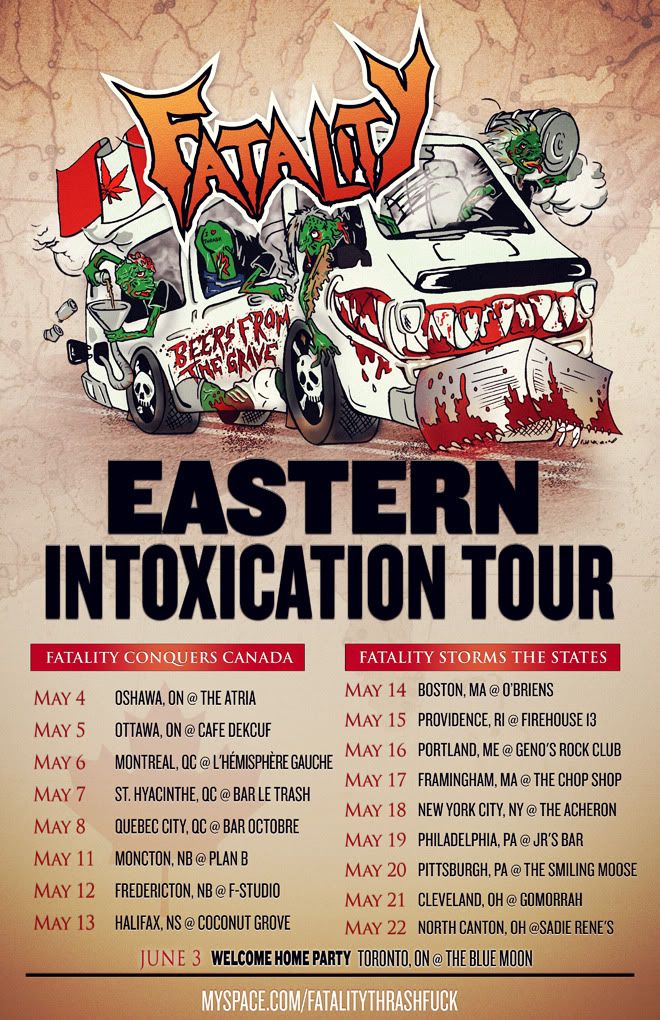 Overview/Video by Isaac Thompson
Photos by Tiffany Naugler
Presented by: KOBRA PROMOTIONS
FATALITY
www.myspace.com/fatalitythrashfuck
SANKTUARY
www.myspace.com/sanktuaryslays
THRESHOLD GUARDIAN
www.myspace.com/thresholdguardian
Coconut Grove
1567 Grafton Street
Halifax, NS
$6
Although the Halifax heavy metal scene is strong, vibrant and enthusiastic, it is relatively small and it seems that on Friday night most of the devoted were at the Paragon's Cancer Bats show. Saying the metal show at Coconut Grove - featuring Sanktuary, Fatality and Threshold Guardian – was poorly attended might be an understatement (Besides the bands, the bartenders and your friendly neighbourhood Noisographers, the bar was almost totally empty). But it certainly wasn't dead. The bands pushed on, livening up the place by playing their asses off to practically nobody which, in my books, deserves respect.
It took a while for things to get started. It was almost midnight by the time
Sanktuary
stepped up to the plate and the bar was still pretty empty. Sanktuary played a throw-back style of heavy metal akin to the early thrash scene of the 1980s. They pick up where bands like Megadeth, Anthrax and Iron Maiden left off, complete with giant riffs and vocals that sound like a cross between James Hetfield and Bruce Dickinson. They did their thing well and while they weren't the most original band I've ever heard, they played with style and passion. Not every band has to reinvent the wheel, some are just fun to get drunk to. I had a lot of fun getting drunk to this band.
Threshold Guardian
was second on the bill and their sound was much more contemporary. They assaulted the audience with throat shredding death-metal style vocals, a machine gun drum attack, buzz-saw guitars that dismembered everything in sight and a heavy, heavy low end. These guys had a lot of energy and a brutal sound. I'm not the hugest fan of the newer extreme style of heavy metal but I can appreciate how well it works in a live setting. Seeing a band like Threshold Guardian is quite an experience, they attack the listener with a vicious onslaught of aggression and power. The vocalist was pretty versatile as far as extreme metal singers go; he had a decent arsenal of screams that added a sense of melody which helped me enjoy the songs more. It also left me wondering how a person can ever talk again after screaming like that.
Toronto's
Fatality
(or as they like to be called: FATALITY) were headlining the show as part of their Eastern Intoxication Tour. These guys play old school heavy metal of the tongue-in-cheek variety and they sound like a band that has been doing it for a long time. Fatality are crazy-tight, each member showcased a lot of skill and their songs contained all of the important ingredients: awesome riffs, unhinged aggression, brutal low-end, solid rhythm section, go-for-broke vocals and memorable songs.
A few more people started showing up throughout Fatality's set and the addition of heavy metal fans helped make it feel a little more like an actual heavy metal show. Fatality's lead singer was charismatic and commanded the crowd's attention from the start. A few songs into the set, the singer confessed that the band didn't have a set list and asked if anyone in the audience wanted to hear "a cover or something".
Some joker in the audience yelled "Jungle Boogie!" in reference, of course, to Kool and the Gang's timeless disco classic.
The vocalist looked understandably taken aback, glanced around to each of his band members and said "I think it's in G".
And then Fatality actually played "Jungle Boogie" in its entirety. It was badass.
If this show had been on any other night it would have been crawling with metal heads. It would have been a huge party. Unfortunately for the bands, the Cancer Bats show stole most of their key demographic. Fortunately for what audience there was, all three bands rocked as hard as they could and put on a fun show well worth attending.