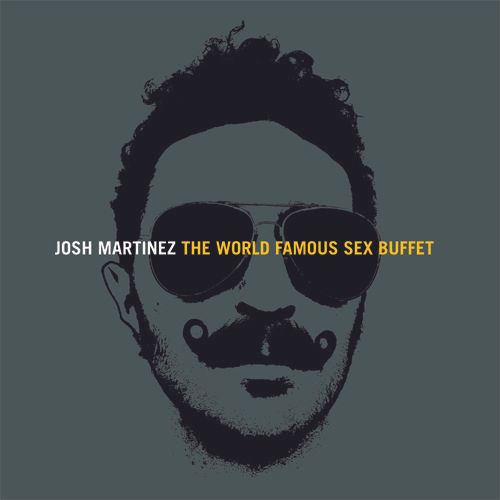 May 31ST On Camobear Records
Exclaim Presents:
Josh Martinez Tour Dates Across Canada
"Though comparisons can be made, both lyrically and conceptually, Martinez proves himself to be one of hip hop's best" –
Exclaim!
Toronto, ON – May 3, 2011 – Camobear Records is pleased to announce the release of Josh Martinez' new album, Pissed Off Wild on May 31st, 2011. Nova Scotian born, Vancouver matured, Portland based multi-tasking artist / music industry visionary, Josh Martinez' latest musical venture does not see him resting on the laurels of what he's proven to be successful in the past. Pissed Off Wild is an extraordinary leap outside the already unlimited boundaries that Martinez observes. Have a listen to the track, Arrow, from the album. Taking its inspiration from 60s psyche-rock, 70s blues, 80s punk, 90s grunge and the failings of the 21st century, Martinez has produced an original work of music unlike anything made yet. Full band, no click tracks, mostly live off the floor, has resulted in a labor of love that took five years to make. It represents the strongest Martinez record yet, with a grown up sound that mixes solid production with the whimsy and sexy good times that the big boys are most known for. This record could share a room with Gnarls Barkley, G.G. Allen, Black Keys and Beck and still be the one everyone's social networking about. Exclaim! is pleased to present Josh's tour across Canada that includes Camobear labelmates Evil Ebenezer and The Lytics.
Martinez has never been easy to categorize. "Martinez brand of music is instantly identifiable and entirely unique" raves Georgia Straight. He's one of the most diverse artists in the music game, surpassing the limitations of indie hip hop by pursuing an "innovative and entirely unique hybrid of clever pop melodies and intelligent, layered songwriting that borrows from everywhere and sounds like nothing else" (VICE Magazine). As an entertainer, Martinez is in the upper echelons of the business, bringing a confidence, urgency and a comedic touch that has converted disbelievers and brought houses down, rocked to their very foundation. Martinez has sold over 100,000 copies of his body of work which encompasses twelve albums. A rotating door of his alter egoesque music making, his catalogue of music includes his own moniker Josh Martinez with albums like his debut, Buck Up Princess, in 1996, through 2005's 25,000+ seller When Pigs Fly by another incarnation of his The Chicharones, to another Josh Martinez record in 2008, The World Famous Sex Buffet, back to The Chicharones in 2009 with Swine Country and finally to Pissed Off Wild this year. Josh is doing what other artists only dream of, feeding his fans a steady stream of ever-evolving music.
"Martinez litters his tracks with more melodies per square inch than any rapper on the planet. Once he gets his hooks in you, he'll never let go" – URB Magazine, Next 100
As an artist, Martinez has a rap sheet longer than repeat offenders, but as a businessman, he has only begun to polish his loafers. In the past decade he's clocked over 200+ tour dates yearly all over the world, started his own label, Camobear Records, inked a solid deal with UK label Bella Union, licensed records to distributors in Japan, Europe and North America and headlined festival and showcases worldwide including POPKomm, MIDEM, SXSW, NXNE, Vans Warped Tour, CMJ, ESPN X Games, as well as jazz festivals in Winnipeg, Halifax, Montreal, Vancouver and Victoria. He recently started Camobear Music Publishing which has helped license hundreds of songs to action sports videos throughout North America, Europe and Japan. Most recently The Chicharones' song "Little By Little" was featured in NBA2K11, the highest selling basketball video game in history.
Tour Dates:
Josh Martinez will be joined on his cross country tour with fellow Camobear artists Evil Ebenezer ('The Best New Voice in Canadian Rap'- Exclaim!) and Winnipeg Supergroup The Lytics.
Josh Martinez/Evil Ebenezer/The Lytics
June 1 - Victoria, BC - Lucky Bar
June 2 - Vancouver, BC - Red Room
June 3 - Kelowna, BC - Sapphire
June 4 - Pemberton, BC - Royal Pemberton Hotel
June 6 - Nelson, BC – Spirit Bar
June 7 - Calgary, AB - Dickens Pub
June 8 - Kamloops, BC - Rivers Pub
June 9 - Canmore, AB - Drake Hotel
June 10 - Saskatoon, SK - Cosmo Centre
June 11 - Winnipeg, MB - Skate for Cancer Benefit at Pyramid Club
June 12 - Winnipeg, MB - Skate for Cancer Benefit
Josh Martinez/Evil Ebenezer
June 13 - Thunder Bay, ON - TBA
June 14-17 - Toronto, ON - NXNE
June 18 - Ottawa, ON - Kapacity Club - w Digable Planets
June 24 - Halifax, NS - Seahorse Club - w Three Sheet
www.joshmartinez.ca
www.myspace.com/thejoshmartinez