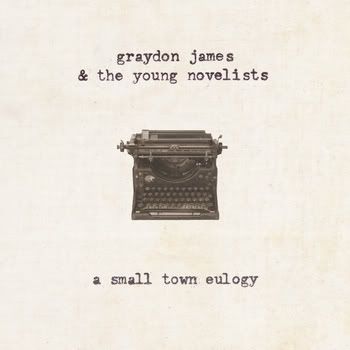 Album Review by Martin
This EP is AMAZING. It starts small and just builds and builds, keeping you interested and intent on hearing what's next. And what's next is just as great as what you're hearing now! Graydon James & the Young Novelists never let up, never let you down. There's lots for anyone to love here, with equal parts rock, folk, country, singer/songwriter. . . The musicianship throughout is of the highest calibre, the songs beautifully crafted accompaniments to beautiful lyrics, and I get the sense that EVERY detail is exactly how the band wanted it, perfectly fitting into the larger song and each song into the album. From start to finish, this EP is a beautifully recorded masterpiece; you can tell that the production value here is VERY high.
- it takes all kinds - The word painting is something I really like here, comparing their relationship to a song. The poetry really speaks, and the emotional range is amazing, gripping me with a 'yeah, i've been there before' feeling the whole way through. The rhythmic intensity really backs it up too, and makes this a whole package.
- exception to the rule - now that we're here, we're treated with a warm, enveloping, relaxing texture, that washes over you and invites you in to a more introspective world. Again, the lyrics, wonderful poetry, stand out and keep you listening.
- left behind - A different voice is really welcome and keeps us focused, a wonderful choice. The textures here are really well thought out, and vocal harmonies masterfully crafted, beautiful. We build and build into a solo/bridge that's really rockin, and then bring it back down, ending with just the vocals, and leave you wanting more.
- take your time - A classic duet! A couple of varied feels, especially in the solo section, keep it fresh! Counterpoint vocals!!! Oh yeah!! They wind, play, and finally meet in the end. What fun!
WOW. Graydon James & the Young Novelists have something really special going on, and I urge you to take part in it. This EP is a sure sign of more great stuff to come in the future, keep an eye out for the follow-up LP in late 2011. They have show dates lined up for May in Ontario--GO SEE THIS BAND!
May 6 / Peterborough, ON / The Spill
May 7 / Kingston, ON / The Mansion
May 27 / Windsor / Milk Coffee Bar
June 11 / Barrie, ON / Ecofest
But that's just my opinion.
graydonjames.bandcamp.com
www.myspace.com/graydonjames