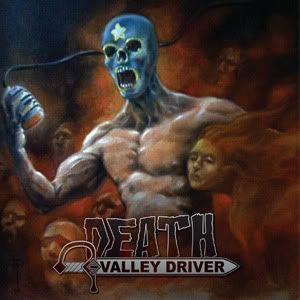 Review By Ian Keane
Charlottetown's
Death Valley Driver
have a new album out entitled "
Choke The River"
and when I first listened to this album I really liked it. It is undeniable that
"Choke the River"
is fist pumping groovy , tight as fuck and a solid album front to back both in production value and song strength. I will also gives these guys props for being able to be catchy without pulling punches on the heavy side. I found myself humming the title track
"Choke the River with your Dead"
days after listening to it for the first time, and that's not something that happens a lot when doing these reviews. Coming in at a little under a half hour this album is packed to the brim with great stoner groove and powerful vocals that range from guttural screams of anger and angst, to bourbon soaked southern twang. Also
"Choke the River"
has some tasty guitar solo's and great song structure that seems to command your full attention at all times.
My opinion of theses guys started to sway a bit after a few more listens. As an avid fan of the southren / stoner rock genre of music I started to hear alot of "borrowed" riffs and vocal melodies from bands like Pantera, Down, Clutch, Black Label Society and Lamb Of God to name a few. This is not a crime by any means and they do a fantastic job creating the same groove, intencity and emotions of their influences. What was more dis-heartening then taking a few tricks and tips from the masters of the trade, was all the local maritime stoner/metal bands that I hear on this album. I'll not name names but any fan of the maritime stoner scene over the last decade will pick them out pretty quick. I'm also willing to bet the members of Death Valley Driver themselves know these bands I'm talking about and are even fans of the bands they sound, a bit too much like. Now I know the argument can be made that those local bands were just "borrowing" riffs from Kyuss, C.O.C , Motorhead and Crowbar and all in all its a good scene of great bands influencing each other, maybe there is truth in that as well. I guess what I'm trying to say is for a band as Solid as Death Valley Driver its a shame how easily they could get dismissed as recycled stoner rock or knock offs of some of the maritimes best bands. Their Myspace bio tells us that they have been together since 2008, which in bands years in not that long, so I'm hoping that on their next record we'll hear more of their personal influence on the powerful sound they offer with "Choke The River". If they can pull that off I'd expect to see them become a powerhouse of the Maritime heavy rock scene.
Death Valley Driver are great at what they do and I recommend them to anyone looking to kick back and blast some heavy stoner rock on a friday night.