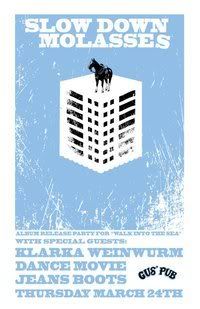 Thursday, March 24 at 10:00pm
Slow Down, Molasses
http://slowdownmolasses.bandcamp.com/
DANCE MOVIE
http://www.myspace.com/dancemovie
Klarka Weinwurm
http://www.myspace.com/klarkaweinwurm
Jeans Boots
http://jeans.bandcamp.com/
I'd not heard of most (ok, any) of the bands playing this show before that night, but I'd heard good things about Slow Down Molasses, and their write ups were convincing. I generally try and support any band that comes from as far away as these guys have traveled, cause, well, that's a hell of a way to come in a rickity old van.
Halifax based
Dance Movie
were up first. They weren't super dancey given the lack of a bassist, but the songs were honest and nicely composed. The violin was a nice touch, and I could hear these songs with a lot of orchestration. As they were they were pretty stripped down, which meant the vocals carried most of the weight of the songs – as everyone knows I'm not much of fan of vocalist/singer songwriter oriented bands, but I know I'm by far in the minority there. Dance Movie are a band you might listen to while looking out the window on a rainy day, thinking about someone you miss. The songs didn't always stay dreary and there were lots of rock out moments which was great.
Klarka Weinwurm
was up next; all though I wasn't familiar with her music I recognized her from Jon McKiel's band. Now with Jon backing her on drums, I had a rough idea of what to expect and it was about as I imagined – dirty heavy pop tunes in the coastal Nova Scotian tradition.. Jon's no frills drumming complimented the grungy guitar and high vocals. The songs had that perfect plodding punchy bass and you couldn't help but shove your hands in your pockets and slightly nod your head with great enthusiasm.
Headliners
Slow Down Molasses
soon filled the stage with copious members, instruments, and an out of place but anticipated electric type writer. The band through a lot of elements into the mix of their songs, with twangy guitar, soaring strings, electric piano, shoe-gazy effects, and dirty bass. The major mash-up didn't always work for every song, but it was a refreshing twist on guitar/bass/drum sounding rock songs. As is inevitably the case with any well populated Canadian indie band with strings and synths, they no doubt drawn comparisons to the Arcade Fire or Broken Social Scene; the raunchy bass sound put them in a slightly heavier category, whether intentional or not. For the most part group vocals carried well over all the songs where they were in play, though I could see more harmony and less unison adding yet another useful layer to the all ready rich sound.
With no one at the show having played in the order listed on the posters, there was some uncertainty over how many, if any bands were left. Some patrons left the bar at this point, but a few were hopefully enough to stick around for
Jeans Boots
. Consisting of 3 members of Slow Down Molasses taking on rearranged rolls, Jeans Boots brought a more straight forward female fronted rock sound to the stage. Light guitar arpeggios rolled over driving bass before diving into heavy power chords, though overall the songs were much more vocal driven than Slow Down Molasses. The front woman reminded me of Rebecka Higgs, and I found myself wishing she'd had a larger part in the Slow Down Molasses vocal lineup. Though the band billed themselves as "noisey, ragged indie rock" their songs were pretty polished and clean sounding. Slow Down Molasses and Jeans Boots are just finishing their Canadian tour, so be sure to check them out if you get the chance.
________________________
See all the photos from this show
HERE
.