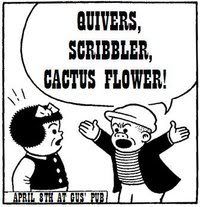 Show Overview by Dan Nightingale
Photos: Tiffany Naugler
Friday, April 8 at 10:30pm
Gus' Pub - $5
Scribbler
http://www.myspace.com/scribblerns
Quivers
http://quivers.bandcamp.com/album/o
Cactus Flower
http://khybercompilation.bandcamp.com/track/cactus-flower-jojo-banks
Cactus Flower
opened up the show with a set of light slick pop tunes. Even with a strong focus on the gentle but confident vocals, the guitar playing didn't suffer. Cactus Flower's songs were simple but well written, and the closing duet sounded like a tight funk blues song without the drums and bass. At points her vocals reminded me of Satomi Matsuzaki from Deerhoof, and there was definitely a quirky guitar influence as well.
After the slow build of Cactus Flower, the crowd prepared themselves with nervous energy for a (long over due?)
Scribbler
set/reunion. With the core 4 piece membership, though sadly lacking Nathan Pilon's rampaging synthesizer, the band threw down a set of new and classic Scribbler songs. The band sounded as chaotic as in their hayday, but the guitars and vocals were tighter and more polished, though they still gave off the desperate sense of dread Craig Currie is known for. Scribbler have long been a Halifax staple, with their creepy, schizophrenic, noise inspired rock. We all hope they stick around and play a few more sets, because these guys should be a famous band - if Neutral Milk Hotel and Half Japanese can make it - so should Scribbler.
The most kick ass part about this show was that it only got bigger and more intense after the most anticipated set.
Quivers
stepped up and turned nostalgia to dance party with their scraggly, garage rock tunes. "If you've got something to say / maybe you should just say it" crones front man Josh Salter, so here goes.With tight punching bass and wild riffing guitar solos, these guys seem to be at the forefront of a garage rock revival scene in Halifax. Going all the way back to the Stance (and earlier no doubt before my time), to Cold Warps and Bloodhouse, it's the new cool thing to do. Fortunately Quivers do it very well. They're not afraid to add useful rock and roll gimics in here and there while staying true to the new modern wave of simple, rythme driven bands and avoiding overdone blues scales and progressions. Timeless vocals are a great touch blurring the line between retro vibe and modern punk attitude, all delivered with the perfect Stooges-style swaggering attitude.
This show was a straight forward, no nonsense night of fantastic music, so be sad if you missed. Fortunately you can check out Scribbler again near future, and Quivers for as long as they don't break up as so many great Halifax band seems to do so quickly.
________________________
See all the photos from this show
HERE
.