Show Overview & Photos by Gary Peacock
Saturday, April 2nd 2011
@ Gus' Pub - 10pm - $5
Flagship Sinker
http://www.myspace.com/flagshipsinker
The Thetans
http://thethetans.bandcamp.com/
Blue Thunder Kuno
http://www.myspace.com/bluethunderkuno1234
The Fat Stupids
http://www.myspace.com/thefatstupids
Audrey & The Agents
http://www.myspace.com/audreyandtheagents
People were still trickling in the door as
Audrey and the Agents
warmed up the stage. They were sounding tight and well-rehearsed, delivering solid and anthemic rock punctuated by singer Chantal Caissie's pitch-perfect howl. Their sound is well-defined, almost to a fault: you will know from the first song whether you like them. Nonetheless, as the juggernaut drives on it's easy to find both of your fists in the air for these rock veterans, most of whom hail from earlier projects.
Speaking of veterans,
Flagship Sinker
was next on the bill, setting up fast and launching into a jeering, wildly gesticulating punk performance that put a lot of feet on the dance floor. Singer Johnny Johnson was a blur of fidgetyness, shaking, twisting and somehow making his whole body wince. His sweat-wrapped Cramps t-shirt was a fitting summary of the antic energy this band is well known for. Drummer Jason Wilson's Motorhead-esque style, which worked so well for the Cuban Assassins and the Heelwalkers, brought a welcome sense of swing. Unfortunately, the set was dogged by too-quiet backing vocals, reminding us that the day may never come when Gus' hires an in-house sound guy.
Next up were the oddballs of the night, the
Thetans
, whose name is borrowed from the Scientological doctrine to which they all strictly adhere. Three of the four members trade lead vocal duties, and they all collabarate on songwriting. The result is a lot of range and originality. Their best moments come when a driving downbeat jam gives way to intense syncopation that commands the dance floor to bounce, probably the influence of No Flyers Please members Michelle Skelding and Isaac Hansen. Nicole Anaka (formerly of ECT) has a raw, stripped-down style of bass playing that contrasts her awesome vocal ability when she steps up to the microphone. Neil Peacock (Fantods, Curious Sofa) contributes unrelenting lead-guitar madness, wah-laden and sometimes reminiscent of whale noises. Definitely a band to keep an eye on.
Blue Thunder Kuno
soon hit the stage, a Moncton band that is easy to love. If you remember the Kamalas, this is largely a side project of the same crew - something that can happen when a band member falls prey to the seductive vice of university. Poppy punk soon had the whole house jumping, pure fun with copious anime references (the band name is a nod to Ranma 1/2). Their bright, explosive sound quickly melted the faces of the audience, taking advantage of the sense of immediacy and engagement that can come with a good three-piece band. I'm not alone in hoping that Blue Thunder Kuno will smite Halifax again in the near future.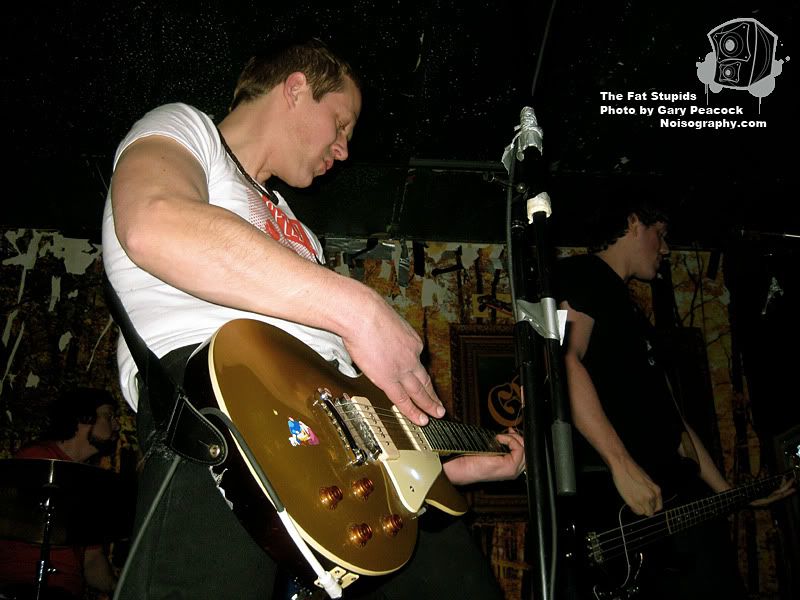 The Fat Stupids
set up fast and started taking the punk rock in an old-school direction. Guitarist Craig Hamlin's machine-gun downstroking and drummer Mike Borlin's blistering fills leave the impression that these guys play as fast as they can at all times. Bassist Matt Grace heaped on a thick slurry of growling tone, and he and Craig's vocal harmonies left me wondering if I could use words like "subtle" and "nuanced" to describe a punk band. When the moshing threatened to turn ugly, they saved the night by inviting audience members to sing requests. It was a ballsy move but the Fat Stupids made it look easy.
This was still going on as the house lights came on, a sad reminder that five bands is just a little too much for a typical show in Halifax, where crowds just don't come out before 11. That said, and despite the rushed feel of the sets, I wouldn't have wanted any band cut from this kick-ass bill.