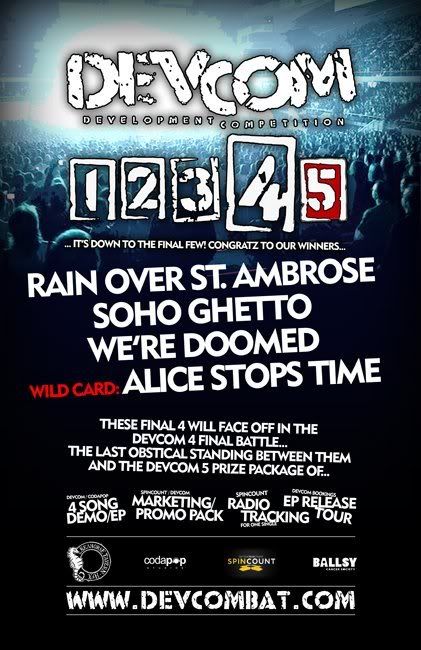 Band overview & Photo/Video Post by Tiffany Naugler
April 13th 2011
@ The Seahorse Tavern
Halifax, NS, Canada
We're Doomed
http://www.myspace.com/weredoomedmusic
Alice Stops Time
http://www.myspace.com/stoptimealice
Rain Over St. Ambrose
**WINNER**
http://www.myspace.com/rainoverstambrose
http://acadianembassy.com
Soho Ghetto
http://www.myspace.com/sohoghetto
We're Doomed
got a hold of me a few weeks back to come check them out at the DevCom Battle of The Bands Finals, at The Seahorse.
I had only made it out to one night of the battle at that point (and I didn't stick around too long) so figured, hey why not? I had seen We're Doomed a few times before but, never really got a good listen, so I figured this would be a good chance.
They didn't disappoint.
This band is great. They are heavier music, that everyone can get into and by the end of their set, everyone in the crowed bar was either moshing or bobbing their heads along.
My only complaint with We're Doomed, regretfully - is their lead vocalist.
He just doesn't have the chops. Don't get me wrong, the guy can scream with the best of 'em! When he does, you feel the urgency, but when the songs call for heavier vocal melodies - he just isn't quite there and it kind of takes away from the sound.
Either way, it was a great set that got just about everyone out of their seats to cheer on the heaviest band at the finals.
I stuck around for the whole night of music this time around and saw/heard some great stuff!
Below is a visual account of the nights events.
REMEMBER: Click the link at the end of the post to check out ALL the photos from the evening.
Alice Stops Time
See all the photos from this show
HERE
.