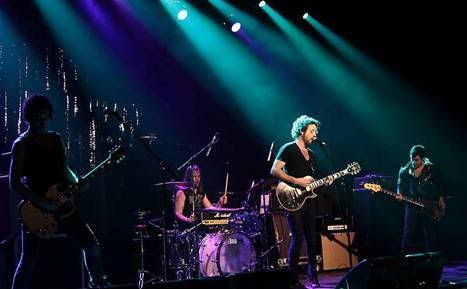 Hot off a successful month-long tour of Ontario and Quebec, Nova Scotia rockers
Gloryhound
are gearing up for a show at
The Seahorse in Halifax on Friday, April 29th
.
Their recent tour included a return to Canadian Music Week in Toronto where Gloryhound delivered three high profile showcases including shows at The Tattoo Rock Parlour, The Legendary Horseshoe Tavern and The Rivoli, capped off by a live acoustic performance on XM radio's "The Brown Bottle Sessions". Many industry leaders came out to see and hear how far the band has come since their CMW appearance last year that resulted in an agent deal with The Agency's Ralph James, attention from promoters at Live Nation and Evenko, and a first look from many labels and talent buyers. The band did not disappoint. Playing songs from their new EP "Electric Dusk" and of course some new material, Gloryhound continued to build a buzz among some of the country's top industry folks. In a recent interview with Larry LeBlanc of Celebrity Access, agent Ralph James (Nickleback, Three Days Grace, Thornley, Gloryhound) was asked:
"What other Canadian bands have you seen that you really like?
There's a great band from the East Coast called Gloryhound (from Halifax, Nova Scotia) that nobody knows about yet. It is a very inspiring young band."
After two weeks of playing up and down the 401 including a sold out opening spot for Australia's buzz band Sick Puppies in Montreal, Gloryhound returned to Toronto for JUNO week. The band played Lee's Palace during JUNOFEST and enjoyed a return engagement at the famed "Gibson Juno Party" which took place at the Hockey Hall of Fame. They wrapped it all up with perhaps the highlight of the tour - opening a sold out performance at The Sound Academy for Thin Lizzy (one of the band's many influences), and the signing of a USA licensing agreement with Revolution 9, a music placement company in Chicago with such clients as Entourage and The Oprah Network.
Don't miss Gloryhound at The Seahorse in Halifax on Friday, April 29th
when they'll bring home a night of "Rock and Roll that you can count on" with openers
The Navy Brats
and
Audrey and The Agents
. Show time is 10pm. $8 at the door.
For music, photos, video and more on Gloryhound please visit:
www.gloryhoundband.com