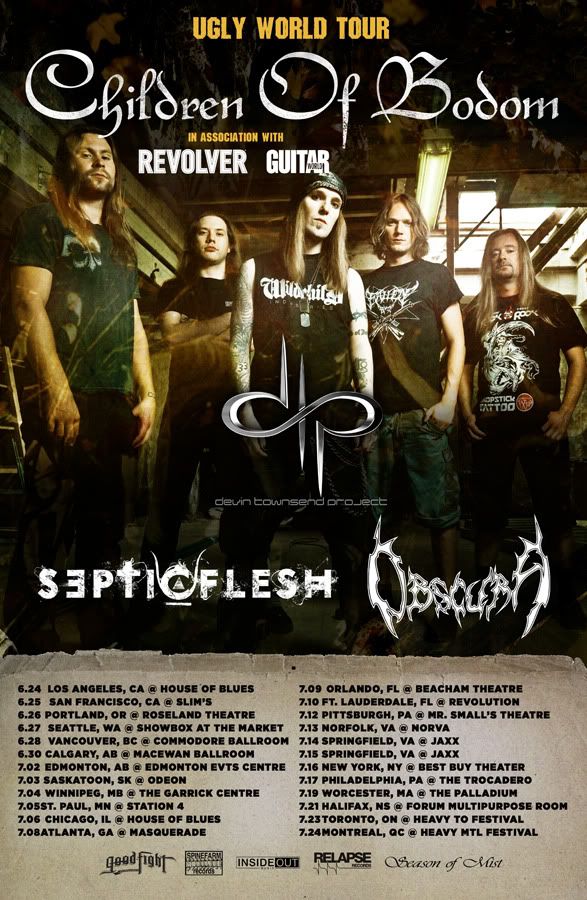 (Halifax, NS) – After a massive Halifax debut last fall, Finnish metal band
Children of Bodom
will return for their first headlining performance in support of their latest release Relentless Reckless Forever at the Multipurpose Centre on Thursday, July 21 at 8 p.m. Special guests are
Obscura, Septic Flesh and Orchid's Curse.
Recorded in Finland with famed rock producer Matt Hyde (Slayer, Monster Magnet), Relentless Reckless Foreveris the seventh studio album from Children of Bodom. The high-energy hooks and electric energy forge stadium-sized heavy metal anthems that seethe with both musicianship and a pop prowess. The album landed at #41 on Billboard's Top 200. The first single and video from the album is "Was It Worth It?"
Children of Bodom
's enthralling mix of modern heavy metal, melodic hooks and the guitar acrobatics of Alexi Laiho have solidified the critically acclaimed Finnish band as one of the most revered hard rock acts in the world and one of the leading voices of metal's new generation. The group's superstar frontman / guitarist Alexi "Wildchild" Laiho is known worldwide for his ambitious guitar playing and was named "Best Metal Guitarist" by the readers of Guitar World.The band's name is derived from the infamous Lake Bodom murders, which took place in Finland in 1960. In addition to Laiho, Children of Bodom features Roope Latvala (guitar), Jaska Raatikainen (drums), Henkka Seppälä (bass) and Janne Warman (keyboards).
Tickets are
$32.50 in advance
and
$37.50 day of show
(including tax) PLUS service charge and go on sale this
Friday, April 15 at 10 a.m.
Tickets will be available at all
Ticketpro outlets
, including, Halifax Forum (2901 Windsor Street), United Bookstore (1669 Barrington St), Video Difference (6086 Quinpool Rd & 1239 Bedford Hwy), Alderney Landing (2 Octerloney St) and CD Heaven (118 Wyse Rd), by phone at 1-888-311-9090 and online at
www.sonicconcerts.com
. Doors open at 7:15 p.m.
For more information on the bands, visit:
www.cobhc.com
http://www.myspace.com/realmofobscura
http://www.myspace.com/septicfleshband
http://www.facebook.com/orchidscurse