...presented by Halifax Pop Explosion and Live 105, M Fest takes place Sunday, August 07 at Alderney Landing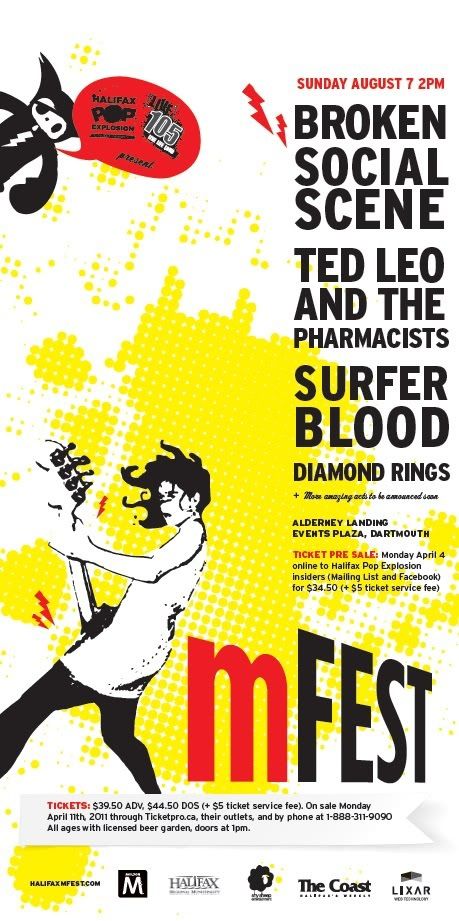 Presented by Halifax Pop Explosion (HPX) and Live 105, M Fest has announced Broken Social Scene, Surfer Blood, T
ed Leo and the Pharmacists, and Diamond Rings as its initial confirmed acts. The festival, which takes pla
ce Sunday, August 07 at Alderney Landing, will announce a second string of acts on Monday, April 18.
M Fest is the latest musical offering from the Halifax Pop Explosion Association, the people who bring you the annual and award winning Halifax Pop Explosion Music Festival and Conference. It's a nonprofit society dedicated to presenting the best in new and innovative music and art from Halifax, Canada, and around the world. M is for music. M is for mobile.
"The first annual M Fest is going to be amazing. We're very excited to be able to bring these bands in for the fans in Halifax," states event organizer and Halifax Pop Explosion executive director, Jonny Stevens. "This is going to be a highlight event for the 2011 summer. We've got more talent to come in the next few weeks so stay tuned and thanks for your continu
ed support."
It has been five years since the last Broken Social Scene (BSS) album, but it also hasn't. In the time that has elapsed since the release of 2005's self-titled opus, founding member Kevin Drew released his solo album, Spirit If... (2007) and co-founder Brendan Canning followed with his own solo set, Something for All of Us... (2007). Both albums were released under the "Broken Social Scene Presents" banner, and were supported by tours that featured career-spanning setlists performed by the same group of players you hear on the new BSS release, Forgiveness Rock Record. The album was produced by the legendary John McEntire (Tortoise/The Sea and Cake) and went on to be short listed for the 2010 Polaris Music Prize.
Based out of Palm Beach, Florida, Surfer Blood released their debut album, Astro Coast, in January 2010. With its deafening swaths of reverb and feedback, the first single, "Swim (To Reach the End)," sounds like early Orange Juice covering Blue Album-era Weezer. Pitchfork listed the track as #37 on their Top 100 Tracks of 2009 and claimed the song, "...alternately strikes me as disarmingly naïve and startlingly confident, bundling what could be at least four standalone hooks into less than three minutes."
Ted Leo and the Pharmacists have released six full-length studio albums and have toured internationally. Though the group's lineup has fluctuated throughout their career, singer/guitarist Ted Leo has remained the band's main songwriter, creative force, and only constant member. The group's music combines elements of punk rock,indie rock, traditional rock, and occasionally folk music and dub reggae. Their most recent album, The Brutalist Bricks, was released on March 9, 2010 on Matador Records.
First conceived in the summer of 2009 by Toronto-based multiplatform artist John O, Diamond Rings burst onto the scene with a series of singles and videos featuring green screen camera trickery, over the top choreography, and daring androgynous outfits and makeup. Now Diamond Rings is finally settling down long enough to deliver a fully realized album, the much anticipated, Special Affections. In keeping with his predilection for confounding public expectation, the album dabbles in a wide range of styles and soundscapes. Spacey slow jams give way to aggressive guitar rock that leads seamlessly into shuddering club beats and soaring synth lines.
Tickets are available on Monday April 11th, 2011 through Ticketpro.ca, their outlets, and by phone at 1-888-311-9090 with exclusive online presale to Halifax Pop Explosion insiders (mailing list and Facebook) for $34.50 (+ $5 ticket service fee) Monday, April 4th, 2011 at 10am. Advanced Tickets are $39.50 (+ $5 ticket service fee) and day of show tickets are $44.50 (+ $5 ticket service fee).
M Fest is open to all ages with a licensed beer garden. Doors for the event open at 1pm with the show starting at 2pm.
Sponsors for M Fest include Live 105, Halifax Regional Municipality, Molson Coors, The Coast and Shysheep Entertainment.
__________________
For more information on
M Fest
, visit:
www.halifaxmfest.com
For more information on
The 2010 Halifax Pop Explosion
, visit:
www.halifaxpopexplosion.com
For more information on
Live 105
, visit:
www.live105.ca/
For more information on
Broken Social Scene
, visit:
www.brokensocialscene.ca
For more information on
Surfer Blood
, visit:
www.surferblood.com
For more information on
Ted Leo and the Pharmacists
, visit:
http://www.tedleo.com/
For more information on
Diamond Rings
, visit:
www.diamondringsmusic.com