ECMA 2011 Awards Gala and 'A Sound Celebration' will be available on bellaliant.net/ecma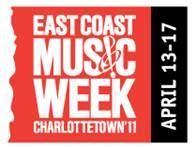 (Charlottetown) - The East Coast Music Association (ECMA), in partnership with long standing supporter and platinum partner Bell Aliant, is once again offering music fans from Atlantic Canada and around the world an opportunity to catch the excitement and performances at this year's ECMA festivities, live online, from anywhere in the world.
The much-anticipated Bell Aliant 2011 East Coast Music Awards Gala, presented by RBC Royal Bank, will be broadcast live on bellaliant.net/ecma on Sunday, April 17at 8:00pm, live from Charlottetown, PEI. Local and global audiences will be able to share in this wonderful night of music and culture presented by the best artists that Atlantic Canada has to offer.
"As a platinum sponsor, Bell Aliant is very proud to work with ECMA to present live, online streaming of the amazing performances to take place in Charlottetown – bringing the talent and excitement of Atlantic Canada to the world on bellaliant.net/ecma," said Bruce Howatt, vice president for Prince Edward Island, Bell Aliant. "By using our technology to engage fans – and also hosting FibreOP celebrations in Charlottetown over the ECMA weekend – we look forward to showcasing music and excellence live from Prince Edward Island."
New this year, Bell Aliant will also stream 'A Sound Celebration' – a pops concert featuring Symphony Nova Scotia and PEI artists Jenn Grant, Meaghan Blanchard, Paper Lions, Richard Wood and Vishtèn live from the Confederation Centre of the Arts. This exciting first for East Coast Music Week takes place Thursday, April 14 at 7:30 pm.
"We are thrilled to be partnering with Bell Aliant to preview this incredible concert to the world," says Su Hutchinson, executive director of the ECMA. "2010 marked the first year of streaming and attracted an audience from across the country and around the world. If you are not able to be present with us in Confederation Centre, don't miss the chance to see this wonderful collaboration."
The web broadcast of both evenings will feature a multi-camera, high-definition shoot taking viewers on-stage and into the audience. Best of all, this show is 100% live – not edited content or a "best of" compilation. You'll see every moment as it happens – it's the very next best thing to being there.
With this format, Atlantic Canadian and international audiences alike can log on and be a part of the ECMA environment for both events with uninterrupted, live access to the biggest names in East Coast music. The Bell Aliant destination page will be set up well in advance with technical support available in advance of the live webcasts.
The live web broadcasts will be available via
www.ecma.com
and
www.bellaliant.net/ecma
. A Sound Celebration begins at 7:30 pm while the 23rd Annual East Coast Music Awards Gala starts at 8:00 pm. Bell Aliant will also broadcast other exclusive showcase performances from Charlottetown on ecma.com and bellaliant.net/ecma throughout East Coast Music Week 2011, from April 13-17.
East Coast Music Week 2011 will take place in Charlottetown, PEI, from April 13-17. The event is part of the ECMA's mandate to foster, promote and develop East Coast music.
The East Coast Music Association would like to acknowledge the financial support of FACTOR and the Government of Canada through the Department of Canadian Heritage (Canada Music Fund) and of Canada's private radio broadcasters.